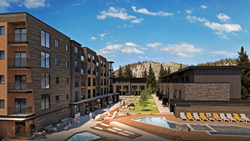 MAMMOTH, Calif. (PRWEB) June 21, 2019
Pre-sales at YotelPAD Mammoth opened on June 18 with a special selection event for Founders.
"We appreciate the continued support of the community and, in particular, the local brokers for this signature resort real estate project," said Gary Raymond, Managing Director, One Mammoth LLC. "These Founder sales are a strong indication that Mammoth skiers love the YotelPAD concept."
Mammoth Lakes is a popular four-season destination attracting more than 2.8 million annual visitors. Mammoth Mountain celebrated a record-breaking snow season this year with the snowiest February on record, totaling more than 15 feet, allowing the ski resort to stay open into August 2019. Due to a number of factors beyond this epic snowfall, the area's hotel and rental occupancy rates have steadily climbed the past three years.
With its larger than life ski experience, Mammoth is increasingly becoming a Southern California mecca for mountain biking in summer and fall months with 70 miles of single-track mountain biking and 20 miles of paved bike trails. With more than 17 lakes within a 20-minute drive, hiking is abundant. Meanwhile, trout-stocked lakes, rivers and creeks attract fishing enthusiasts near and far.
YotelPAD Mammoth has already garnered strong interest since its announcement as the newest opportunity to own real estate in one of the most desirable resort destinations in the country. With a mix of value, modern design, and smart layouts, residences also offer unbeatable location and views. Unrivaled by other offerings in the market, YotelPAD Mammoth appeals to active, multi-generational families seeking a sustainable and affordable home without sacrificing the luxuries or amenities of a bustling vacation home community.
For more information, please visit http://www.yotelpadmammoth.com.
About YotelPAD:
Inspired by the luxury of first-class travel and uncompromisingly designed around guests, YOTEL takes the essential elements of luxury hotels into smaller, smart spaces and deliver extraordinary value and a sense of community with areas for co-working, social gatherings and exercise. Premium Cabins include YOTEL's signature adjustable SmartBed™ with rejuvenating rain showers and SMART TVs, multi power and USB points and easy connectivity. YOTEL currently operates four airport hotels in London Gatwick, London Heathrow, Amsterdam Schiphol and Paris, Charles de Gaulle airports and three city centre hotels in New York, Boston and Singapore. YOTEL is expanding rapidly with new projects under development globally, including Istanbul Airport, San Francisco, Singapore Changi Airport, London, Edinburgh, Glasgow, Geneva, Amsterdam, Miami, Dubai, Mammoth, Park City, Long Island City and Porto. YOTEL's major shareholders include a controlled affiliate of Starwood Capital Group, the Talal Jassim Al-Bahar Group, United Investment Portugal and Kuwait Real Estate Company (AQARAT). YOTEL was created by YO! founder Simon Woodroffe OBE, who inspired by first class travel, translated the language of luxury airline travel into a small but luxurious cabin (http://www.yo.co.uk).
About Replay Destinations:
Replay Destinations is a fully integrated destination development company headquartered in Vancouver Canada, and operating in the continental United States, Hawaii, Mexico, and the Caribbean. Replay's team of strategists, planners, designers, builders and operators develop and operate authentic and enduring places that become must-visit destinations for guests and potential real estate purchasers alike. Working with visionary private equity firms, landowners, municipalities, other developers and families with legacy holdings, Replay creates places that the marketplace thinks of first and likes best, which in turn enhances the market awareness and economics of the destination. The founder and partners of Replay are select key senior executives from Intrawest Corporation, which was one of the leading four-season destination resort developers in the world, with more than 18 destination resorts globally. Visit http://www.replaydestinations.com for more information.