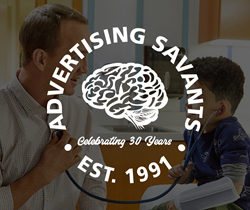 Advertising Savants has been entirely committed to intelligent strategies and unexpected creative work for three decades now. Very few agencies in the country can claim as much. —David Smith, Senior Creative Director
ST. LOUIS (PRWEB) November 05, 2021
In October 1991, Kevin Reardon and a colleague launched a new ad agency from their home offices with an original Macintosh computer and not a single client to their name. Three decades later, the agency is behind several recognizable campaigns for a host of familiar brands, including Ascension Health, the Saint Louis Zoo, Energizer, Delta Dental, First Community Credit Union, Boy Scouts of America (GSLAC), StoneBridge Senior Living, Missouri Wineries, Fontbonne University, St. Anthony's Medical Center, St. Louis University, the Casino Queen, Cordell & Cordell and Logan University.
"I was driven from the very beginning by a Victor Hugo quote," recalls Reardon. "'There is nothing more powerful than an idea whose time has come.' This notion inspired me to create a unique advertising agency. It also extended to my vision as it related to the nature and quality of work."
Rather than name the agency after themselves, Reardon and his co-founder decided to focus the agency's identity on their vision of matching creative teams to brands and corresponding projects best suited to their talents, strengths and expertise. With this in mind, the two founders tapped into the definition of a savant: an individual with profound knowledge in a specialized field. Thus the name Advertising Savants was born. Using a quirky brain for a logo and the tagline, "Real Cerebral Stuff," Advertising Savants set out to blaze a new path in the St. Louis advertising scene.
Soon after opening, the agency landed its first project – a pro bono assignment for the St. Louis Department of Public Safety's "Operation Safestreet." Mayor Vincent Schoemehl helped launch the program, created to aggressively promote smoke detectors and encourage prominent display of street addresses in order to reduce fire fatalities throughout the city. The award-winning tv, radio and print campaign, in what was the first of many of the agency's big ideas to come, inspired the distribution of thousands of smoke detectors in St. Louis.
The agency's keen ability to turn insightful brand strategy into emotionally powerful creative was soon garnering attention and recognition. On the heels of "Operation Safestreet," the agency began working with some of St. Louis' most venerable companies and institutions, including GenCare Health Systems (purchased by United Healthcare), A.G. Edwards (now Wells Fargo) and St. Louis University.
In 1993, the agency's move into its original office space at 21st and Locust Street marked the beginning of a 27+ year commitment to the City of St. Louis and the Locust Street corridor. As Advertising Savants found its stride, more doors began to open. When the Saint Louis Zoo invited the agency to pitch its business in 1993, little did either side know it would be the beginning of a relationship that's still going strong today.
Ginnie Westmoreland, who retired as the Zoo's Director of Marketing in August, worked with the agency from the very beginning. "Working with Advertising Savants over the years has been tremendous. Not only have they provided consistent, effective and clever creative for the Zoo, it has always been on strategy. They have been a great partner as we've worked together to figure out the best strategic direction for any given campaign," notes Westmoreland. "They've helped maintain the Zoo's image in the area as well as throughout the Midwest."
The agency and Westmoreland operated as a close-knit team, and the resulting big ideas were as enduring as they were endearing. The beloved "Can you come out & play?" campaign resonated with people of all ages, inviting audiences to learn about the wonders of wildlife and explore new exhibits like Penguin & Puffin Coast, River's Edge and Canopy Trails. When the Zoo's institutional purpose became a focal point at the turn of the century, the branding shift to "Animals Always" created a deeper understanding of the Zoo's core purpose of caring for and sustaining wildlife.
The agency attributes its successful relationship with the Zoo and other long-standing clients to a culture of mutual trust, transparency and a commitment to excellence. According to Monica Green, Retired Corporate Manager of Communications for Delta Dental of Missouri, the partnership was evident at every turn. "From the start of our relationship, Kevin Reardon and the Advertising Savants team came to the table as true partners in our journey," states Green. "They listened, guided, collaborated and led us in defining and building our brand, step by step. They were core members of our marketing team in every sense. They supported the brand, the company, the budget and the research to achieve highly creative solutions across print, television, radio, digital and outdoor media."
Throughout the years, the agency has maintained its size of around a dozen employees, some of whom have been with the company for 20 years or more. Employee stability and continuity has translated into several long-standing client relationships. Reardon points to a lively culture as another key to the agency's success, starting with a commitment to excellence and a work hard, play hard mentality. Over the years, the agency has committed to offering its dedicated employees an agreeable work-life balance, along with a range of activities including horseback riding, float trips, softball, bowling, a ropes course, ziplining, winery excursions and team-building trips to Florida and Michigan.
In 1998, the agency moved across the street into an unconventional loft space above the Schlafly Tap Room Brewery. The inviting, casual space made for a relaxed creative atmosphere, and it was not uncommon for clients to partake of a Schlafly Pale Ale or Hefeweizen during the course of an agency presentation. Reardon recalls one particularly memorable meeting that took place during a tornado warning. "For safety reasons, we all moved down to the brewery cellar. We then proceeded to give our Powerpoint presentation with a laptop sitting atop a large oak (beer) barrel." Employees were also witness to other notable downtown St. Louis events during the agency's 20 plus years in the Schlafly Tap Room headquarters, including the Popemobile traveling down Olive Street during the 1999 visit of Pope John Paul II, President Bill Clinton's motorcade heading east on Locust Street in the mid-nineties, and the unprecedented 2019 display of the NHL's Stanley Cup at a St. Louis Blues celebration in the Tap Room event space.
While the agency's commitment to fresh thinking has impacted a multitude of brands across a range of categories, the agency is especially skilled at making an emotional connection between brands and consumers. David Smith, the agency's Senior Creative Director, knows from experience. An accomplished veteran of national agencies RPA (Rubin Postaer and Associates), GSD&M and The Richards Group, Smith has worked on some of the foremost brands in the country, including Honda, Farmers Insurance, La-Z-Boy, Southwest Airlines and Chick-fil-A. Speaking to the agency's longevity and achievements, Smith recognizes the significance. "Advertising Savants has been entirely committed to intelligent strategies and unexpected creative work for three decades now. Very few agencies in the country can claim as much," notes Smith.
The agency is particularly adept at working with brands that enhance all aspects of the home, promote healthy lifestyles and bring joy to everyday living. The agency's healthcare roster in particular has been quite extensive over the years, with clients ranging from durable medical, health insurance, healthcare groups and foundations to hospitals and large healthcare systems.
A notable agency highlight was taking top honors in the 2013 Advertising Research Foundation's David Ogilvy Awards. Honoring the research and insights that lead to successful ad campaigns, the gold was awarded to the "Good health starts here" campaign developed for Delta Dental of Missouri. According to Green, "The collaboration extended beyond expectations to include powerful third-party research, and the Ad Savants team dug in to apply the consumer and market insights to deliver breakthrough creative that brought our brand to life. All within our modest budget. Our Gold Ogilvy Award speaks clearly to the professional quality of the creative team. The lasting personal relationships speak to the respect and authenticity of the people."
More recently, the agency's emotionally-charged work for Ascension has been recognized with several national industry creative awards honoring excellence in the healthcare category. The integrated national brand campaigns for Ascension have not only fortified the brand, notes Reardon, but the work has enriched lives by encouraging audiences to seek exceptional healthcare. "I appreciate how AdSavants helps us tell the story of our caregivers and patients with beautiful creative imagery and in a way that resonates with our communities," remarks Nick Ragone, EVP and Chief Marketing Communications Officer for Ascension. "They truly understand our voice and those that we're privileged to serve." In the past few years, Ascension work has also used the strong appeal of affiliated spokespersons, including football legend Peyton Manning, NFL coach Mike Vrabel, professional golfer Bubba Watson and singer/songwriter Kelly Lang.
Reardon has a threefold approach to what he believes has contributed to the longevity of the agency and its successful brand-building. First and foremost, Advertising Savants is committed to cultivating big ideas that are a result of fresh thinking. Secondly, the agency is deeply invested in its proprietary process that provides the invaluable strategic roots to those big ideas. Lastly, Reardon cites the agency's purpose-driven approach – a means to connect emotionally with audiences – as an essential ingredient. "The concept of core purpose is central to who we are as an agency and is a big part of how we look at and develop brands. If we've made you laugh, cry, think, squirm, seek out adventure or simply kick back and enjoy the comforts of home, we've accomplished what we set out to do. We ultimately set out to change your life for the better."
As to what lies ahead, Reardon is optimistic. "The industry has seen transformative change," said Reardon. "Advertising Savants has evolved with the changing times and the changing demands of business. After three decades, the agency has not only survived, but thrived."
"Advertising Savants has always been and always will be about the creative. From a fresh approach to brand strategy to its creative expression and how we creatively connect brands to people, that's the thing that continues to make the work interesting to me and the agency as a whole."
"For 30 years, we've built brands. We've changed lives. And, we've had a blast every step of the way."
Celebrate with Advertising Savants at http://www.advertisingsavants.com/30years
###
About Advertising Savants, Inc.:
Founded in October 1991 by Kevin Reardon, Advertising Savants, Inc. is a full-service creative agency that provides Fresh Thinking for home, health and life. A recipient of the ARF David Ogilvy Gold Award, Advertising Savants specializes in working with brands that enhance all aspects of the home, promote healthy lifestyles, and bring joy to everyday living. We do this by using a proprietary, repeatable process called Positioning with Purpose, which inspires our three main disciplines of Brand Strategy, Creative Development, and Audience Engagement. Our long-standing client relationships and award-winning work are a testament to our culture of mutual trust and our commitment to excellence.
Advertising Savants has an extensive brand portfolio in a variety of categories, including healthcare, financial services, education, attractions, education, consumer packaged goods, home products and nonprofits.
In June 2021, the agency relocated to the .ZACK building in the Grand Center Arts District.
About Kevin Reardon:
Kevin Reardon is the Founder / CEO of Advertising Savants, Inc. Reardon, a veteran account service director with a strong strategic planning background, worked for a handful of St. Louis agencies early in his career, including Gardner (Southwestern Bell) and Creath Jacobsen, as well as Austin, Texas-based GSD&M (Southwest Airlines). He founded Advertising Savants, Inc. in October 1991. The agency is behind several recognizable and award-winning campaigns for several notable brands, including Ascension, StoneBridge Senior Living and the Saint Louis Zoo. Reardon is a long-time resident of Webster Groves, MO.