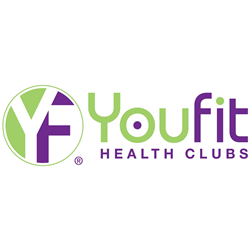 Because accountability is so important when working out, you can also bring your workout buddy along with you – every single time.
DEERFIELD BEACH, Fla. (PRWEB) February 04, 2021
Throughout the month of February, Youfit Health Clubs is offering new members the chance to join for just $1 when they sign up for the elite Lime Card Membership.
With the all-access Lime Card:

Members can workout at any Youfit location nationwide at no additional cost.
Lime Card members can also bring along a guest free-of-charge to the gym at any time.
In addition, Lime Card members receive unlimited access to YouGX group fitness classes.
Other perks include half off cooler drinks and unlimited access to amenities such as the Youfit Cinema, tanning, and cycling classes, depending on location.
"One of the greatest benefits of Youfit is the convenience of our many locations," said Youfit COO Jessica Johnson. "With a Lime Card membership, in addition to unlimited access to your home gym's state-of-the-art facilities, you will be welcomed into to any Youfit club in the country. And because accountability is so important when working out, you can also bring your workout buddy along with you – every single time."
The promotion is available for new members at all Youfit locations across the country. To sign up, visit youfit.com or stop by your local club.
At each club, Youfit prioritizes the health and safety of its members and has committed to meeting all applicable guidelines, including those mandated by the government, and is implementing safety precautions including the following:
Each and every Youfit Health Clubs location undergoes deep cleaning and regular stringent sanitizing that includes the disinfecting and maintenance of all equipment, surfaces, and facilities.
The clubs are enforcing social distancing guidelines to keep staff and members safe. This includes creating greater distance between machines and the implementation of no contact check-in and membership enrollment processes.
A new membership code of conduct has been implemented.
YouGX Group Fitness classes are operating at select locations. Classes have been redesigned with spacing to encourage social distancing, hand sanitizing is required, attendees must bring their own towels, and classes may be a bit shorter to allow ample time for cleaning and disinfecting between each class. Members can check their local club for when classes will resume, and they can also still work out at home by accessing YouGX classes on Facebook Live.
About Youfit
Youfit Health Clubs is a gym that's about one thing only: You. Founded in 2008, Youfit offers affordable gym memberships at state-of-the-art facilities to help members get the most out of life.