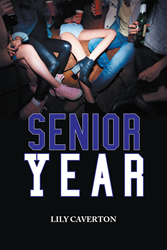 "I want all young people to know that they matter. No matter how poorly they may have been treated," the author said, "they can overcome all of the odds set against them."
NEW YORK (PRWEB) July 23, 2018
"Senior Year" follows a 17-year old girl who has her entire life ahead of her. A senior in high school, she is on the honor roll and looking ahead to a bright future until she finds herself involved with the wrong crowd. Drinking and partying soon takeover, pushing her to make life-altering decisions that ultimately lead her into a deep depression.
Based on true events, author Lily Caverton wrote this novel to shine a light on the mental health struggles millions of teens and adolescents face, and show how overcoming obstacles is possible.
"I want all young people to know that they matter. No matter how poorly they may have been treated," the author said, "they can overcome all of the odds set against them."
Teens and young adults will resonate with the feelings of not fitting in, feeling alone, and not knowing who to turn to portrayed in "Senior Year." A story of survival as much as it is a story of struggle, readers will find comfort in the resilient nature of the main character's journey.
"Senior Year"
By Lily Caverton
ISBN: 9781524588526 (softcover); 9781524588533 (hardcover); 9781524588519 (electronic)
Available at the Xlibris Online Bookstore, Amazon and Barnes & Noble
About the author
Lily Caverton has been writing since she was four years old, when she used to hole-punch her books and tie ribbon to keep the pages together. She has always had a love for writing and is passionate about literature. Lily graduated with a bachelor's degree in Psychology and is now pursuing her Master's in Clinical Mental Health counseling. Among writing, she loves spending time with close friends, traveling, and meeting new people. She works as a Residential Counselor, hoping to use her personal as well as clinical experiences to help better the lives of individuals with disabilities and mental illness.
###
Review Copies & Interview Requests:
LAVIDGE – Phoenix
Kiersten Woglom
480-998-2600 x 586
kwoglom(at)lavidge(dot)com