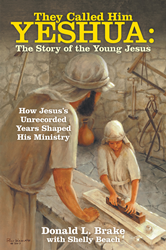 LEWISVILLE, Texas (PRWEB) August 05, 2019
Author Donald L. Brake, along with Shelly Beach, have recently released their new book "They Called Him Yeshua", a fictionalized account of the adolescent and young adult life of Jesus Christ, inspired by the Bible and the biblical figureheads that helped Jesus accomplish his mission.
In dramatic, creative fiction, Brake delves into the unrecorded first 30 years of Jesus' life, in which he came to awareness with his divine mission and he struggled with being both man and God. The book centers on the world of an ordinary family facing extraordinary political and religious challenges as they grapple with a young Jesus's developing identity and struggle with temptation, illness, friendship and other life challenges.
One of Brake's goals was to explore many Christians' questions surrounding Jesus' early life. "Most readers interested in the life of Christ wonder if he ever became sick, if his family resented his lack of desire for children, and how he handled temptation as a human," he said. "I hope my answers to these questions help readers reflect on Jesus' life and understand Jesus a little more."
David Sanford, who has represented books published by Zondervan and Tyndale House, reviews "They Called Him Yeshua": "With biblical and historical accuracy, insightful sanctified imagination, and brilliant storytelling, Brake and Beach foreshadow what we know with certainty from the New Testament. Get ready for epiphanies aplenty!"
Readers are sure to come away from "They Called Him Yeshua" inspired by the greatness of God and his plan for humankind.
"They Called Him Yeshua: The Story of the Young Jesus: How Jesus's Unrecorded Years Shaped His Ministry"
By Donald L. Brake with Shelly Beach
ISBN: 9781480872981 (softcover); 9781480872967 (hardcover); 9781480872974 (electronic)
Available at Archway Publishing and Amazon
About the authors
Donald L. Brake received his doctorate degree from Dallas Theological Seminary and served as dean emeritus at Multnomah Biblical Seminary of Multnomah University. Brake has led tours to the Holy Land and has taught the life of Christ and the Bible's historical/cultural backgrounds for more than 35 years. Brake has written 15 articles for the St. Louis Metro Voice, has published the Wycliffe New Testament, and has written various books and mission articles for magazines.
Shelly Beach earned her master's degree from Grand Rapids Theological Seminary and is an award-winning author of eight books of both fiction and nonfiction. She served as managing editor of Zondervan's Hope in the Mourning Bible and was one of three writers of Zondervan's NIV Stewardship Bible, as well as a contributor to Tyndale's Mosaic Bible. She is cofounder of the Breathe Writer's Conference and the Cedar Falls Christian Writer's Workshop and speaks nationally on a wide variety of issues and presents seminars for Daughters of Destiny, a national women's prison ministry.
Contact:
LAVIDGE – Phoenix
Kalin Thomas
480-648-7540
kthomas(at)lavidge(dot)com