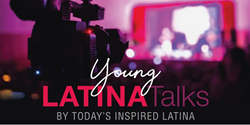 "These women are our next generation and their stories will make a difference to every one who hears them. It is my honor to give them this platform."
NORTH AURORA, Ill. (PRWEB) February 06, 2020
Held last September in Chicago's suburbs, Young Latina Talks inspired local Hispanic women ages 15 to 25 to share their stories of forging their own paths to success in front of a worldwide audience. Its overwhelming popularity and positive response has led this engaging event to do an East Coast edition for the very first time.
The Young Latina Talks East Coast event will be held Saturday, April 18, 2020 at Robert Wood Johnson University Hospital at 1 Robert Wood Johnson Place in New Brunswick, New Jersey.
The event was created as an extension of Today's Inspired Latina (TIL), an internationally acclaimed book series highlighting the success stories of Latinas. Jacqueline Ruiz, TIL's creator, explained how the event was an idea from Elizabeth Colón-Rivera, a TIL author, who suggested that young Latinas do a Latina Talks event of their own after participating in one.
"Elizabeth's idea resonated with me because I know in my heart that there are many young Latinas who want to share their stories to help others like themselves," Ruiz said. "In our inaugural event, 12 of these ladies candidly expressed what it was like to come to the United States, to sometimes be the first of their families to attend college and to share family situations that are not always the best. Their stories touched our hearts and I'm very excited that we are bringing this powerful event to New Jersey."
After an application process, potential speakers are invited to participate. Those participants will also vie for a $1,000 Amazing Young Latina Scholarship. This scholarship will be used to help with college expenses.
Ruiz kindly thanks the following businesses that are partnering for this special event:
Host Sponsor:
Robert Wood Johnson University Hospital
Silver Sponsors:

Cien +
Easy Consulting
Latina Surge
Capturing Beauty Photography
Bronze Sponsor:

Mercedes Consulting and Services, LLC
Senator Teresa Ruiz
Partners:

Bellas Fashionistas
Univision 41
Prospanica
HISPA
ALPFA
Mexican Alliance of New Jersey
Ruiz hopes that the public will come and support these Latinas presenters.
"These women are our next generation and their stories will make a difference to every one who hears them," she said. "It is my honor to give them this platform."
Today's Inspired Latina
6 Books: 152 Authors: 1 Common Dream
A Today's Inspired Latina™ is an award-winning book series of inspiration and hope, a poignant collection of personal stories that will activate your passion. The series is the largest collection of stories in a book anthology series in the world with 152 to date in six volumes. Volumes seven and eight will be published in 2020 for more than 200 Hispanic female authors. These are success stories that need to be told, to motivate our community for generations to come. By overcoming language barriers, self-doubts and other obstacles in their way, these strong Latinas are a great example of how inspiration and perseverance can lead you to happiness and success in business and life. It's a positive, empowering read for anyone sitting on a dream and thinking it can't come true. Today's Inspired Latina™ shows that it can! For more information, visit: http://todayslatina.com. ###