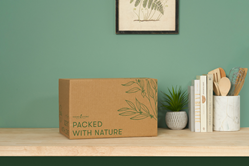 "As the global leader in the essential oils space, we are committed to preserving the environment and making a positive impact in all that we do."
LEHI, Utah (PRWEB) March 13, 2023
Young Living Essential Oils has launched a new line of shipping materials for its products that are more environmentally friendly and make recycling a family affair. The refreshed boxes, bags, and tubes are 100 percent recyclable, offer more durability, and come printed with fun patterns to encourage children to color the panels and repurpose boxes into a personal masterpiece.
Young Living has worked to extend its sustainability initiatives to its packaging through a partnership with the Packaging Corporation of America (PCA). PCA is one of the largest producers of corrugated packaging products in North America, which are the most environmentally friendly packaging in the world. The new boxes and bags have also been downsized to fit the contents better, reducing the use of materials needed inside.
Other new features of the shipping boxes include:

Higher-quality, sturdier boxes designed for recycling. Boxes easily flatten to take up less space in the recycling bin.
Wood fiber that is sourced responsibly, demonstrated by the Sustainable Forestry Initiative (SFI) Certified Sourcing standard.
Eco-friendly EarthAware® AirPouch pillows made from recycled plastic that protect products inside the boxes and easily deflate to further encourage recycling through store take-back programs.
Nature-inspired designs that double as coloring activities for kids.
"We strive to be stewards of the earth," says Prasad Gankanda, Chief Operating Officer at Young Living. "As the global leader in the essential oils space, we are committed to preserving the environment and making a positive impact in all that we do."
Young Living selected PCA as its partner for this initiative because of the company's clear commitment to the environment, demonstrated through its compliance with the U.S. Lacey Act, Endangered Species Act, and the Clean Water Act. PCA also prioritizes managed forestry—making sure trees are planted, grown, and harvested responsibly to prevent depletion of natural resources.
"PCA values align with our sustainability initiatives," notes Gankanda. "We're excited that together we can amplify our shared commitment to the environment, while providing the high-quality end product that our customers expect from us."
The new boxes have already entered rotation and will replace the older boxes as inventory is phased out over the next month. To learn and see more about the new boxes, watch this video to see the newest features firsthand.
About Young Living Essential Oils
Young Living Essential Oils, LC, based in Lehi, Utah, is the world leader in essential oils, offering the highest-quality oil-infused products available. Young Living takes its industry leadership seriously, setting the standard with its proprietary Seed to Seal® quality commitment. This guiding principle helps Young Living protect the planet and provide authentic products that its Brand Partners and Customers can feel confident using and sharing with friends and family. Young Living's products—sourced from corporate-owned farms, partner farms, and other trusted suppliers—not only support a healthy lifestyle, but also provide opportunities for over 6 million global Brand Partners to find a sense of purpose and whole-life wellness by aligning their work with the Young Living values and passions. For more information, visit YoungLiving.com, follow @youngliving on Instagram, or like us on Facebook.
Media Contact
For media inquiries, please contact whitney@redbanayn.com.