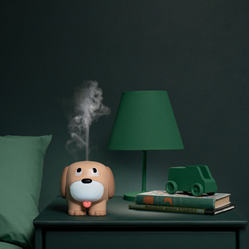 "Whether they're a new parent or an essential oils enthusiast, Young Living's array of premium diffusers features a perfect size and model for anyone on your list."
LEHI, Utah (PRWEB) December 05, 2022
Just in time for the holidays, premier essential oil company Young Living is releasing two new, limited-edition essential oil diffusers. The Duet Diffuser and Sprout the Puppy™ Diffuser utilize innovative technologies to provide two perfect diffusing options for users of any age.
The Duet Diffuser is Young Living's most concentrated diffuser yet. Using atomizing technology, the Duet Diffuser can diffuse essential oil without any water, meaning more oil dispersion and less mess. The diffuser's name comes from the dual-mist spouts that allow users to diffuse a combination of two scents at once, using 5, 10, or 15 ml bottles.
"With the use of atomizing technology, the Duet Diffuser releases oils into the air more quickly and at a much higher density than water-based diffusers," says Yu Ohki, Vice President of Product at Young Living. "This is the perfect option for those who love to create their own essential oil blends and want to elevate their journey with aromatherapy. With its custom run times and a built-in Bluetooth speaker, this diffuser delivers a completely personalized oil experience."
The other newest addition to the Young Living premium product line is Sprout the Puppy™ Diffuser, which is a great option for kids. Sprout the Puppy offers an adorable new friend to accompany little oilers in their aromatic experience. With five soothing sound options, 10 LED light displays, and a BPA-free and heat-free design, this limited-time diffuser is perfect and safe for any child's bedroom. The new diffusers allow each family member to create a personalized scentscape for every room using the wide array of Young Living essential oil scents, including KidScents ®, a line of products just for kids.
Young Living's Product Portfolio Director of Home Product Management, Amy Fitzgerald, headed the development of both diffusers, focusing on innovation and ease of use. Amy wanted to expand the diffuser selection, ensuring that Young Living had the perfect diffuser option for everyone.
"An essential oil diffuser is perfect for friends and family you want to give the gift of wellness to this holiday season," Yu says. "Whether they're a new parent or an essential oils enthusiast, Young Living's array of premium diffusers features a perfect size and model for anyone on your list."
About Young Living Essential Oils
Young Living Essential Oils, LC, based in Lehi, Utah, is the world leader in essential oils, offering the highest-quality oil-infused products available. Young Living takes its industry leadership seriously, setting the standard with its proprietary Seed to Seal® quality commitment. This guiding principle helps Young Living protect the planet and provide authentic products that its Brand Partners and Customers can feel confident using and sharing with friends and family. Young Living's products—sourced from corporate-owned farms, partner farms, and other trusted suppliers—not only support a healthy lifestyle, but also provide opportunities for over 6 million global Brand Partners to find a sense of purpose and whole-life wellness by aligning their work with the Young Living values and passions. For more information, visit YoungLiving.com, follow @youngliving on Instagram, or like us on Facebook.
Media Contact
For media inquiries, please contact prinquiries@YoungLiving.com.