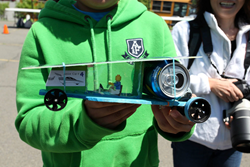 VIENNA, Va. (PRWEB) August 21, 2018
Young Scholars Circle in cooperation with Faaiz Memon of TJ STEMbassadors, Electric Vehicle Association, Technology Student Association (TSA), US Army Outreach Program (USAOP) and National Renewable Energy Lab (NREL) invite all students in grades five to eight to participate in a Junior Solar Sprint competition at Longfellow Middle School on October 21, 2018.
The Junior Solar Sprint provides a hands-on opportunity for students to apply Science, Technology, Engineering, and Mathematics (STEM) concepts, creativity, and problem-solving skills as they design, construct and race solar-powered cars. Using engineering principles, students get excited about generating ideas in a group and then building and modifying models based on these ideas.
Students can participate as individuals or as teams of two or three. There is an elementary division for grades five to six and middle school for grades seven and eight. Awards are given for both design and the track event. Potential participants can learn more here.
Young Scholars Circle is a sponsor of the annual event and provides free workshops for participating students that want to learn how to build solar cars. These workshops are meant for brainstorming, planning and designing solar cars. Students can also opt to bring their materials if they want to build their solar car during the workshop. Workshops are scheduled for September 9 & 30 and October 14, 2018 from 12:00 p.m. to 1:30 p.m. at Young Scholars Circle's Vienna, Virginia location. Those interested can register here.
The 2018 Northern Virginia Junior Solar Sprint is being held Sunday, October 21, 2018 (rain date on Sunday, October 28, 2018) from 11:00 a.m. to 2:00 p.m. at Longfellow Middle School Basketball Court in Falls Church, VA.