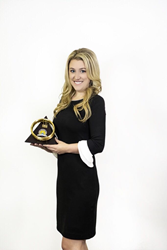 No scientific analysis performed by a government expert is one hundred percent accurate
HOUSTON (PRWEB) February 05, 2019
After completing three rigorous courses, Alli Cannon of Cannon Law has attained the designation of Forensic Lawyer-Scientist, making her the youngest female attorney recognized by the Chemistry and Law Division of the American Chemical Society.
According to the American Chemical Society, "The ACS-CHAL Forensic Lawyer-Scientist is one who uses validated and legitimate science for the benefit of justice. These are lawyers who study the science and apply it legitimately in the courtroom. They expose invalid or non-validated science and use valid science in the courtroom. They eschew the smoke and mirrors techniques of old and embrace the science for the benefit of all."
The designation requires attorneys to take a series of courses presented by Axion Analytical Labs in Chicago, Illinois, and pass a comprehensive proficiency exam. The courses are designed specifically to help attorneys better defend clients accused of drug and alcohol-related crimes. The courses required to achieve designation are: the ACS Forensic Chromatography course, the ACS Solid Drug Dose (Forensic Drug Analysis) course, and the ACS Forensic DUID (Forensic Principles of Driving Under the Influence of Drugs) course.
In the Forensic Chromatography course, attorneys learn the classroom theory behind had chromatography, and how flame ionization detectors and mass spectrometry work. They then put that theory to practical use by watching how the instruments work and running their own hands-on tests under expert direction, including lab work to better understand blood ethanol sampling and the role that plays in DWI cases.
The Forensic Drug Analysis course reviews how seized substances such as marijuana, pharmaceuticals, synthetic cannabinoids, and other drugs are analyzed, how laboratory analyses are used in cases involving possession of pre-consumption substances, and how analytical techniques are used in the field to determine if a substance is illicit. For practical applications, students are able to view and run tests of their own.
The final class, Forensic Principles of Driving Under the Influence of Drugs, focuses on the analysis of blood, urine, hair, and saliva for indications of drug use. It also provides an in-depth understanding of both pharmacokinetics and pharmacodynamics, the aim of which is to educate on the effects substance use has on the body and how that might influence a motorist's ability to function.
For Cannon, this designation means she is able to bring a new level of confidence to representing people who have been charged with driving while intoxicated, possession of controlled substances, possession with intent to distribute, and other drug and alcohol-related crimes.
Without forensic training, lawyers often have no choice but to accept the findings of the crime lab when preparing a defense. With this comprehensive, hands-on training, Cannon now has the specialized skills needed to understand and challenge any questionable scientific methods, results, and conclusions presented by the prosecution. This results in a much stronger defensive strategy for her clients.
"No scientific analysis performed by a government expert is one hundred percent accurate each and every time they perform the test," said Cannon. "My extensive scientific training and experience in the testing used by the government in driving while intoxicated cases is extremely beneficial in finding and exposing errors and inaccuracies."
Cannon is thrilled to bring this new knowledge and experience to her Houston law practice, Cannon Law. Her practice is solely focused on representing clients who are accused of drug and alcohol-related crimes.
More information can be found at https://cannonlawtexas.com/.
About Cannon Law
Alli Cannon is Houston's premier DWI lawyer, offering tailored services designed to protect clients' rights, driving privileges, and reputations. Cannon Law staff is available 24 hours a day, 7 days per week for client consultations.