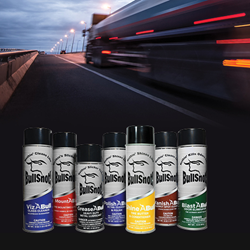 BullSnot! Engineered for truckers, performance for everyone.
DALTON, Ga. (PRWEB) April 29, 2021
Brown Ox Ventures announced today that its BullSnot! line of automotive products will be distributed nationwide by Hi-Way Distributing. Brown Ox Ventures is a chemical company that manufactures a complete line of aerosol products under the BullSnot! brand that was developed specifically to address the needs of the 3.5 million truck drivers across the USA.
According to Vann Brown, CEO of Brown Ox Ventures, "Hi-Way Distributing is known for innovation and being sensitive to market needs. They heard their customers' voices through retailers and social media and adopted the herd of BullSnot! products for distribution. We are proud to have them as our second national distribution partner. BullSnot! products were engineered for truckers. However, their performance has been widely recognized and adopted in other markets such as automotive, farming, and boating." There are currently seven products sold under the BullSnot! brand:

VizABull Glass Cleaner
BlastABull Odor Eliminator
GreaseABull Heavy-Duty Metal Lubricant
ShineABull Tire Butter and Conditioner
MountABull Tire Mounting Lubricant
VanishABull Carpet Spot Cleaner
PolishABull Detail Polish and Cleaner
Hi-Way Distributing will distribute the BullSnot! herd of products to the over 3,000 corporately owned and independent truck stops nationwide and Canada. Truck drivers have been vocal in their desire to have BullSnot! at truck stops for immediate purchase. BullSnot! customers demand convenience and instant product purchase ability. Hi-Way Distributing listened to their business partners and our trucker friends. All BullSnot! products were designed from numerous conversations with professional truck drivers and specifically formulated to meet their exact needs.
Hi-Way Distributing is known for bringing the competitive edge that enables their business partners to continually experience growth and profitability. They offer over 14,000 SKUs in Truck Supply, Automotive, Entertainment, Gift/Novelty, Souvenir and Apparel, to ensure they have everything required to meet their customers' requests. Hi-Way Distributing is a family-owned company that has served Travel Centers, C-Stores and Specialty Retailers across America and throughout parts of Canada for over 40-years. They are dedicated to delivering a positive impact to their business partners through proper product selection, inventory management, promotional planning, backed up by service with most orders being delivered within 24-hour of placement.
Hi-Way Distributing is widely recognized for their passion for innovation. They understand that every location is different and canned programs just do not work in today's business climate. They evaluate every store's current footprint, product/program selections, and space allocations and develop a comprehensive marketing strategy that provides a clear and concise plan for each business. Their core foundation is people, customers, innovation, excellence and integrity. According to Vann Brown, "Hi-Way Distributing holds the same core values as our company and we are excited to partner with them to distribute the herd of BullSnot! products."
Contact your local Hi-Way Distributing account representatives in the continental United States and Canada to find out more about adding the herd of BullSnot! products to your shelves.
About Brown Ox Ventures
Founded in 2005, Brown Ox Ventures is a chemical company that manufactures an extensive line of automotive aerosol products under the BullSnot! brand. The family of BullSnot products was initially developed specifically for the trucking industry. Through innovation and bold leadership, these products are now gaining recognition in other markets such as automotive, farming and boating.
The BullSnot! herd have seen years of success on Amazon and are now available at Bass Pro Shops, Bomgaars, and are distributed to retailers across the nation and Canada by Lynco Products and Hi-Way Distributing.
Brown Ox is driven by commitment to bring the best, high performance products to the market without ever sacrificing value. For additional information about BullSnot! products, please visit http://www.brownox.com or follow Brown Ox Ventures on Twitter, LinkedIn, Instagram and Facebook, #bullsnot.