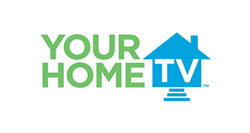 "We're vastly improving the home shopping experience, and most importantly, we're shortening the sales cycle for our clients through improved video engagement. That's a powerful dynamic and one that delivers tremendous ROI results", says Garrett Baxter, CEO, SimuStream.
LOS ANGELES, Calif. and TAMPA, Fla. (PRWEB) June 17, 2020
Your Home Digital CEO, Sean Stockell announced today a new marketing partnership with SimuStream, developer of the nation's first In-Video Call-to-Action Tool. "We're so grateful for the leadership and insight of our Chief Brand Strategist, Kathy Ireland, and the dedication and support of her team members, Tommy Meharey and Miles Robinson for bringing this partnership together. Your Home TV and Simustream is a powerful combination. What SimuStream CEO, Garrett Baxter and his team have developed is brilliant. They've increased video engagement by 30% or more and have enabled shoppers to act on opportunities quickly. Online shoppers today digest data rapidly and take action when best products and prices are identified. Video is the preferred content delivery format today, so SimuStream has really pulled it all together," says Stockell.
SimuStream Chairman, Garrett Baxter says, "When you consider the hundreds of home products featured on Your Home TV, the global reach of kathy ireland® Worldwide and their many home products under license, this partnership represents a video marketing main-stage. Home consumers will now find videos on anything and everything home on Your Home TV and have the ability to view products quickly, take immediate action on offers and sign-ups, or respond to other call-to-action opportunities. We're vastly improving the home shopping experience, and most importantly, we're shortening the sales cycle for our clients through improved video engagement. That's a powerful dynamic and one that delivers tremendous ROI results," says Baxter.
Kathy Ireland, Chair, CEO and Chief Designer of kathy ireland® Worldwide says, "With the rapid emergence of new technology, we continue to explore the most cutting-edge developments that can disrupt their industries, enhance business models and provide customers with innovative solutions and experiences. SimuStream is one-of-a-kind technology and we believe the new strategic partnership with Your Home Digital will truly revolutionize the customer-centric marketing industry." Kathy Ireland serves as Executive Editor of Content and Chief Brand Strategist of Your Home Digital.
"It's a great privilege to live the growth of Your Home Digital and work alongside CEO, Sean Stockell and his team. Your Home Digital has developed unique homeowner resources and provides tangible benefits in both B2B and B2C channels. This partnership with SimuStream is ideal for that reason. We're anticipating exceptional results with SimuStream's technology for Your Home TV viewers and increased sales for our home industry clients. We've changed the landscape in home intelligence and resources and SimuStream helps to build on that momentum," said Tommy Meharey, Board Member of Your Home Digital, and the youngest Board Member of kathy ireland Worldwide.
"This timely alliance between Your Home Digital, led by Sean Stockell, and Simustream, led by Garrett Baxter, is a major solution serving consumers who are looking for informational videos on anything and everything home. When you add seamless capabilities to shop simultaneously while streaming, you create conversions from views to sales in minutes. It's a wonderful win-win for both consumers and retailers and this partnership will set a new paradigm in the way we will all shop on-line moving forward," says Miles Robinson, Vice President of Production, kiWW and YHD Board Member.
Schedule a SimuStream Demo Today. Write to Marketplace@YourHome1Source.com or call 1-800-860-7210
About Your Home TV®
Your Home TV® is a home products & services video marketing platform developed by Your Home Digital, LLC. Your Home TV® is integrated with YourHome1Source.com (YH1S.com), America's Resource on Homeownership® and offers hundreds of videos on Anything and Everything Home®. Your Home Digital specializes in affordable video production, cost-effective video campaigns and executes high ROI video strategies across web, social and streamed media.
About kathy ireland® Worldwide (kiWW®)
kiWW® is listed at #26 in the world by License Global Magazine. Kathy Ireland is one of the most influential businesswomen in the world today and according to Fairchild Publications, Kathy is one of the 50 most influential people in fashion. Furniture Today also names Kathy one of the most influential leaders in the furniture industry. Kathy has graced the cover of Forbes Magazine twice (2012, 2016) and was featured on the cover of SUCCESS magazine in August 2019. kiWW® is the recipient of many awards including several Good Housekeeping Seals.
About SimuStream®
SimuStream is a powerful globally patented technology that allows consumers to make a purchase or fill out forms inside of a streaming video without ever disrupting or leaving the video. SimuStream increases sales conversions, reduces cart abandonment from eliminating redirects, and greatly improves your revenue channel.