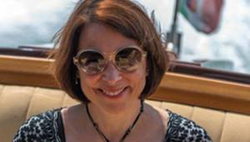 As an American who has lived in Italy for 30 years, I am excellently positioned to show the best of Italy to travelers from my homeland. My on-the-ground experience enables me to design vacations that give a traveler a 360-degree experience.
Rome, Italy (PRWEB) August 08, 2017
Individuals, couples, families and groups who want to truly experience the heart and soul of Italy and create delightful memories that will last a lifetime, can now book private tours, excursions and tailored vacation packages with the unique new boutique travel firm Your Own Italy.
Founded by Carmen Carbonell, a native of Washington D.C. who trained as an architect and has lived in Italy for 30 years, Your Own Italy works directly with clients to custom design itineraries and activities in one of the world's most art-rich, food-celebrated, nature-blessed countries. Clients decide how much time they want to spend touring, and how much time they want to discover Italy on their own.
Whether they wish to visit Italy for a few days or a full month, clients can rest assured that Carmen and her bilingual team of guides, organizers and drivers are responsible for all logistics and details. In addition, Your Own Italy draws on Carmen's personal and professional network to generate curated and vetted lists of local restaurants and boutiques that meet Your Own Italy's world-class standards for excellence and quality.
With respect to accomodations, clients always stay in the dynamic heart of each city rather than in a generic hotel on the outskirts. This is ideal for taking a quintessentially Italian after dinner "passeggiata'' — or stroll — through town to get immersed in the local culture. Clients traveling in larger groups, including families, can also choose to say in pre-screened and hand-selected furnished apartments.
Clients can spend as much time as they desire — such as while gazing at a fascinating ancient ruin — without being pressed to jump on a tour bus and race away. They also travel between destinations in the manner of their choosing, such as by private limousine, a train ride with local residents, or via any other desired mode of transportation.
"My on-the-ground experience enables me to design vacations that give a clients a 360-degree experience of Italian life and culture that they cannot get on their own, or through ordinary vacation tours and packages," commented Carmen Carbonell. "Whether the itinerary includes staying at quaint family-run hotels, private walking tours of famous landmarks, treks off the beaten path, full-day excursions to the countryside, delightful wine tours in all regions, private boat tours to Capri or Sicily's tiny fishing islands, every aspect of a Your Own Italy vacation truly reflects each unique client's personal travel aspirations and desires. I have a deep passion for Italy's culture, art, cooking and people, and a refined understanding of how Americans want to experience Italy's cultural riches and natural beauty."
For more information on Your Own Italy, visit http://www.yourownitaly.com.
For all other inquiries including media interview requests, contact Carmen Carbonell at carmen(at)yourownitaly(dot)com.