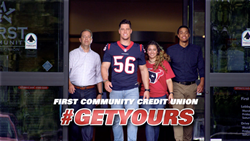 "You can see the passion that both teams have to produce nothing less than an amazing commercial for the client. Already looking forward to working with You Squared Media and Moffett next year."
Houston, Texas (PRWEB) August 24, 2017
You Squared Media, a full-service advertising agency, launched First Community Credit Union's (FCCU) #GetYours campaign featuring Houston Texans Linebacker, Brian Cushing. The TV spot was first seen throughout Houston during Texans preseason opener with a #GetYours theme. #GetYours invites Texans fans to choose FCCU, for all their financial needs including a Texans checking account to home and auto loans. The campaign will extend its reach to more broadcast exposure as well as a digital push in future months.
The goal of the campaign was to reach a primary audience of adults 18-34. The team at You Squared Media and FCCU used music as the driving force to capture and inspire their target audience, reminiscent to the success achieved in FCCU's first commercial featuring Brian Cushing's return after a season-ending injury. The creative process included a focus on age specific talent, branded upbeat music, and of course, Brian Cushing. Through FCCU's partnership with the Houston Texans, You Squared Media was able to highlight the #GetYours campaign across network television programming, outdoor/billboard advertising, and digital marketing during preseason games and in-stadium LED features throughout the regular football season.
The agency/client partnership between You Squared Media and FCCU has evolved since early 2012. FCCU's Vice President of Marketing Amber Magee says, "Working with You Squared Media is a delight! No matter what our need is whether print, radio, digital, commercial product, etc., You Squared Media provides the expertise needed to assist in making the best strategic decision for FCCU. Recently, we filmed our latest commercial and You Squared once again, brought in the dream team at Moffett Productions to film and produce the spot. Working with Moffett and You Squared over the last six years has elevated our creative in commercials. You can see the passion that both teams have to produce nothing less than an amazing commercial for the client. Already looking forward to working with You Squared Media and Moffett next year."
Video: https://youtu.be/BKkyCHAvI74
About You Squared Media
You Squared Media opened its doors in 2010 as a full-service advertising agency with a personalized client approach. Their team of experienced, talented individuals share a common passion for doing great work. With over 20 years of experience and a core focus on client verticals such as financial, medical, and hospitality, their team delivers the results their clients expect. You Squared Media's specialties include, but are not limited to: media placement (broadcast, print and outdoor), digital marketing, graphic design, web development, web management, commercial production, social media marketing, press releases, and email marketing. To learn more, visit yousquaredmedia.com.