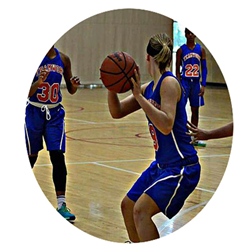 We're reaching across state lines to support Team Work Oklahoma because they've made it their mission to create moral, confident, and responsible boys and girls who are ready to take their place as tomorrow's leaders
Arlington, TX (PRWEB) September 13, 2016
The Holguin Agency, a family operated insurance and financial planning firm that provides business and residential services to clients in northern and eastern Texas, is launching a charity drive to help raise funds for the Team Work Oklahoma Sports Program.
Team Work Oklahoma is an AAU certified basketball organization operating in Edmond, Oklahoma. Team Work Oklahoma offers programs for both boys and girls from third grade through high school, and TWO volunteers are dedicated to working with participants to build strong moral character, improve personal confidence, and instill the responsibility and independence children need to become the leaders of the future.
"We're reaching across state lines to support Team Work Oklahoma because they've made it their mission to create moral, confident, and responsible boys and girls who are ready to take their place as tomorrow's leaders," says Yvette Holguin, owner and manager of the Holguin Agency.
Holguin and her team are gathering support in both Texas and Oklahoma by using social media and email to connect with friends, associates, families, and business owners in the region. Next, the Holguin Agency plans to produce an article discussing the Team Work Oklahoma charity event for publication in the firm's webzine "Our Hometown": http://www.holguinagency.com/Our-Hometown-Magazine_39.
Team Work Oklahoma marks the tenth charitable cause supported by the Holguin Agency since 2014. As part of a permanent community improvement program, Holguin and her team plan to continue finding and working with local charities at the rate of one every other month.
For those interested in joining the Holguin Agency as they gather support for the Team Work Oklahoma basketball organization, direct action to support the cause can be taken from the following page: http://www.holguinagency.com/Teaching-Our-Youth-Values-Through-Team-Sports_25_community_cause. Additional information on charitable causes and nonprofit foundations assisted by the Holguin Agency in the past can be found on the firm's Community Causes listing: http://www.holguinagency.com/community-cause?page=1.
About The Holguin Agency
Yvette Holguin and her sister Sonia Holguin Castro have worked with Allstate for over 25 years, combined. During that time they have learned what makes and keeps their customers happy, and established their agency's focus on providing them with the most courteous and exceptional service possible. It is their priority to function as their trusted advisor, properly covering their assets and offering expert advice regarding their finances, automobile, home, business and anything else that is of value to them. To contact a specialist at The Holguin Agency, call (817) 609-8051.