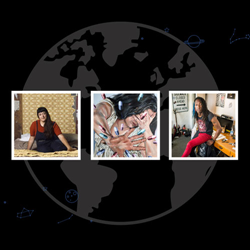 NEW YORK (PRWEB) May 03, 2021
According to the World Health Organization, mental health conditions account for 16% of the global burden of disease and injury in young people aged 10 - 19 years old. Mental health and well-being and the everyday obstacles that make them challenging is the theme of the new Planet Classroom show entitled Journeys to Well-Being. Orb, the show's virtual host, unites the creators of 3 films now screening on the Planet Classroom Network YouTube Channel: The Mess, Addiction and Art: Spotlight on Dopamine, and Throw, along with youth voices to discuss some of the challenges of mental health, violence, poverty, and substance abuse. Audiences will get insights into overcoming adversity via coping mechanisms including the arts and finding one's purpose. "Substance abuse is a serious issue," says Sofia Rosenblatt from Chile. "If we are open to talk about it and learn about it in ways that are unconventional but engaging and judgment-free, such as art, then we can prevent future generations from developing addictions, and we can prevent future generations from being misinformed about the topic."
For more information on Planet Classroom
Follow @PlanetClassroom on Twitter
Contact Information:
David Wine
David(at)cmrubinworld(dot)com
About The Planet Classroom Network
The Planet Classroom Network, organized by CMRubinWorld, brings together musicians, dancers, video game creators, filmmakers, learning innovators and emerging technologists from all over the world to entertain, educate and engage youth, and to provide a rich cultural experience at a time when art and learning institutions everywhere are not accessible. Curators and content contributors include Global Nomads, Global Oneness, the Martha Graham Dance Company, Commffest, KIDS FIRST!, Dream a Dream Foundation, OddWorld Inhabitants, Psyon Games, Challenge 59, LXL Ideas, Alliance for Young Artists & Writers/Scholastic Art & Writing Awards, Creative Visions Foundation, Battery Dance, SIMA Classroom, Young Voices for the Planet, Bard Conservatory, Taking It Global, Materials for the Arts, Book Creator, XTalks, NFFTY, Young People's Chorus of New York City, The International Forum for the Literature and Culture of Peace, Ryan Wong Classroom, The Global Search for Education, Voice America, Rocketium and Brandartica. Young people from around the world played a significant role in conceptualizing, creating, and producing the network's vision and programming.
Subscribe to Planet Classroom Network YouTube channel