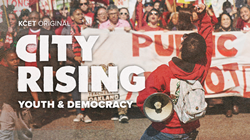 BURBANK, Calif. (PRWEB) September 22, 2020
KCET, Southern California's home for award-winning public media programming, announced today a new installment of the acclaimed documentary series CITY RISING. The new installment CITY RISING: Youth & Democracy examines how young people are activating their civic power to reshape systems and institutions for a better future. The new multi-platform initiative is in partnership with The California Endowment. CITY RISING: Youth & Democracy premieres in Southern California on Tues., Oct. 20 at 8 p.m. on KCET and Thurs., Oct. 22 at 8 p.m. on PBS SoCal. The documentary will also be broadcast nationwide Sun., Oct. 25 at 7 p.m. ET/PT on Link TV (DirecTV 375 and DISH Network 9410). The documentary will also be released digitally following the broadcasts on kcet.org/cityrising and linktv.org/cityrising.
CITY RISING: Youth & Democracy follows the stories of youth leaders, allies and organizations as they challenge institutional and systemic issues through civic engagement. Over the course of the one-hour film, the role and work of youth organizations in California is explained, demonstrating how young people are organizing their communities to participate in public policy and make lasting change in pursuit of a more just and equitable future for themselves and the world they live in. More engaged, better trained, better allied, and on the shoulders of a rich legacy, young people are fostering hope for a better future for themselves and the nation.
Sociologists, economists and experts including Dr. Veronica Terríquez (Associate Professor Sociology Department at the University of California Santa Cruz), Dr. Manuel Pastor (Professor of Sociology and American Studies & Ethnicity at the University of Southern California), California State Senator Holly Mitchell and Dr. Ben Kirshner (Professor at the University of Colorado Boulder's School of Education) are featured in this third installment of the CITY RISING series.
The five California communities featured in the documentary include:

In Fresno, Zofia Trexler and Raymart Catacutan use the power of journalism to keep youth informed and engaged, while uplifting young voices.
In Oakland, Jae Hill from the organization Youth Together joins teachers' strikes to support funding for pay and to maintain the health and counseling services that she and her fellow students need to succeed in school.
In South L.A., Joshua Ham from Brothers, Sons, Selves Coalition discusses their work to enact the School Climate Bill of Rights across the LA Unified School District in order to implement restorative justice methods of discipline instead of traditional punitive measures.
In Santa Ana and Merced, Claudia Pérez from Resilience OC and Inés García from 99Rootz explore how undocumented youth can still participate in democracy and have their voices heard, despite their inability to vote.
In Sacramento, Jay Franco from Youth Forward joins a coalition of youth organizations to fight for the Sacramento Kids First Fund, an initiative that looks to expand the city's budget for youth services and have young people included when deciding where those resources go.
Join the conversation on social media using #CityRising
ABOUT CITY RISING
CITY RISING is a documentary series that examines social justice issues affecting California communities. The program illuminates the journey of California's neighborhoods advocating for policy change to improve upward mobility for their communities. The effects of these movements are far-reaching, and their voices will ultimately impact the social health of communities across the country and beyond.
ABOUT KCET
KCET is on-air, online and in the community, and plays a vital role in the cultural and educational enrichment of Southern and Central California. KCET offers a wide range of award-winning local programming as well as the finest public television programs from around the world. Throughout its 54-year history, KCET has won hundreds of major awards for its local and regional news and public affairs programming, its national drama and documentary productions, its quality educational family and children's programs, its outreach and community services and its website, kcet.org. For additional information about KCET productions, web-exclusive content, programming schedules and community events, please visit kcet.org. Select original programming from KCET is also available for streaming on Apple TV, YouTube, Amazon and Roku platforms. For more information please visit kcet.org/apps.
ABOUT THE CALIFORNIA ENDOWMENT
The California Endowment, a private, statewide health foundation, was established in 1996 to expand access to quality health care for underserved individuals and communities, and to promote fundamental affordable improvements in the health status of all Californians. The Endowment challenges the conventional wisdom that medical settings and individual choices are solely responsible for people's health. The Endowment believes that health happens in neighborhoods, schools and with prevention. Headquartered in downtown Los Angeles, The Endowment has regional offices in Sacramento, Oakland, Fresno and San Diego, with program staff working throughout the state. For more information, visit http://www.calendow.org.