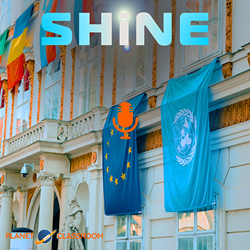 NEW YORK (PRWEB) October 11, 2021
Young people have inherited a world beset by crises but Planet Classroom in association with Creative Visions have invited youth globally to shine a light on their thoughts, feelings, hopes and desires for the world. In this new episode of the SHINE shows, Orb, Planet Classroom's virtual host, asked eight young leaders - 5 from Global Citizenship Foundation: Arjun Singh, Thueba Said, Shantal Lukoye, Kuvam Mehta and Jessa Adriatico; and 3 from UN Youth: Zaheen Razeen, Siena Castellon and Hadiqa Bashir, to present solutions. Their powerful presentations suggest that they are ready, willing and able to design a modern society and international community that cares for the good of all its people.
The 4th industrial revolution created inequality, social discord, a fragile labor market and the need for innovation and change. What does this mean for global learning? How can we reform curriculum to support the local good and the global good for all people?
"Humanity was tested. Courage was tested, yet we managed to emerge strong and better," notes SDG Leader Zaheen Razeen. "I recommend educational institutions partner with telecommunication firms with a broad reach in remote areas to ensure easy access and implementation of e-learning," suggests Thueba Said. "We flourish when everybody flourishes," adds Hadiqa Bashir; "Expand the definition of the right to education so that it embraces the importance of connectivity and access to knowledge and information." "Realistically speaking, a better and safe world is something that we couldn't achieve unless we remember how to be humans," says Jessa Adriatico.
Listen to the show here
Contact Information:
David Wine
David(at)cmrubinworld(dot)com
About Planet Classroom
The Planet Classroom Network, organized by CMRubinWorld, brings together musicians, dancers, video game creators, filmmakers, learning innovators and emerging technologists from around the world to entertain, educate and engage youth, and to provide a rich cultural experience for all. Content showcased for youth and by youth on the Planet Classroom Network is provided by 29 cultural organizations from around the world. Young people globally played a significant role in conceptualizing, creating, and producing the network's vision and programming.
About Creative Visions
Creative Visions creates impact media, supports storytellers and empowers education and youth around human rights issues. The organization manages a powerful network of activists, artists, filmmakers, advisors and organizations and hosts in-person and online convenings and strategic gatherings to connect people, raise awareness and inspire action. Rock Your World, a program of Creative Visions, empowers educators and youth by facilitating multimedia advocacy.