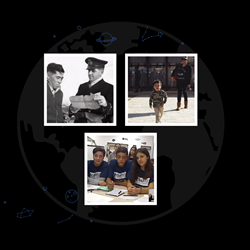 NEW YORK (PRWEB) May 25, 2021
Prejudice is the result of fear and ignorance as illustrated in 3 outstanding films now screening on the Planet Classroom Network YouTube Channel: Siroun Webcast, Through the Wall, and Swimming Upstream. Youth voices from around the world join ORB, Planet Classroom's virtual host, to focus on the Japanese Canadian internment and struggle for redress, the Armenian Genocide and the lessons relevant now, and the Mexico-United States border wall in Planet Classroom's latest podcast. Youth guests from around the world share solutions for building bridges and inspiring positive change.
"We are building our future. It's important that we learn from the past and learn from the mistakes and make sure that things like ethnic cleansing, property disposition, and community destruction never happen in our future," says Natassa Uehara from Japan.
"The first step to any change is acknowledgment of a problem and its severity. Then, and maybe most importantly, it is to find our inner humanity as the leading approach to any issue," notes Anainah Dalal from India.
Visit the Planet Classroom Network YouTube channel
Contact Information:
David Wine
David(at)cmrubinworld(dot)com
About The Planet Classroom Network
The Planet Classroom Network, organized by CMRubinWorld, brings together musicians, dancers, video game creators, filmmakers, learning innovators and emerging technologists from all over the world to entertain, educate and engage youth, and to provide a rich cultural experience at a time when art and learning institutions everywhere are not accessible. Curators and content contributors include Global Nomads, Global Oneness, the Martha Graham Dance Company, Commffest, KIDS FIRST!, Dream a Dream Foundation, OddWorld Inhabitants, Psyon Games, Challenge 59, LXL Ideas, Alliance for Young Artists & Writers/Scholastic Art & Writing Awards, Creative Visions Foundation, Battery Dance, SIMA Classroom, Young Voices for the Planet, Bard Conservatory, Taking It Global, Materials for the Arts, Book Creator, Addition and Art, XTalks, NFFTY, Young People's Chorus of New York City, The International Forum for the Literature and Culture of Peace, Ryan Wong Classroom, The Global Search for Education, Voice America, Rocketium and Brandartica. Young people from around the world played a significant role in conceptualizing, creating, and producing the network's vision and programming.