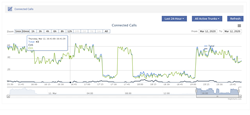 "Working with Ytel has cut our cost significantly & optimized our ability to be agile. Ytel provides insight & expertise coupled with customer service. They are willing to go the extra mile for my growing business. It's nice having a true partner to work with," said CJ Cox, Founder of Sudovox.
Lake Forest, California (PRWEB) March 15, 2020
Ytel, a leading CPaaS company that helps businesses engage more customers using multi-channel communications, is excited to share the expansion of its cloud-based SIP platform, Ytel Voice. For customers not using Ytel's Contact Center software solution, the Bring Your Own Carrier (BYOC) model gives contact center owners more visibility into the telecom network they are running on.
With an understanding of telecom pain points and experience building insightful contact center software, Ytel has created an easy to use SIP platform with a transparent view of network KPI's and analytics for other telecom software providers and call centers looking to get more granular with their network. Ytel Voice surpasses other voice (SIP) providers because of its emphasis on one of the biggest indicators of a successful call center - network insight.
"We keep an eye on market needs and industry pain points so we can approach new trends head-on," said Brian Keep, COO of Ytel. "There's been a tangible frustration within the contact center space; users feel visibility and access to quality voice networks, on which their contact center is running, is severely lacking. We felt it was a great time to jump into the Bring Your Own Carrier (BYOC) conversation, knowing we could fill the gap left by other providers."
Without network visibility, contact centers are left in the dark, making it difficult to assess or reach their KPIs, because the insights and analytics tied directly to their campaigns are nonexistent or not robust enough.
Sudovox fit into this group until they switched over to the Ytel Voice platform and found the insights and network control that they were looking for.
"Working with Ytel has both cut our cost significantly and also optimized our ability to be agile in an ever-changing Telecom ecosystem. Ytel provides insight and expertise coupled with a bar none hands-on approach to customer service. They are willing to go the extra mile to accommodate my growing business. It's nice having a true partner to work with," said CJ Cox, Founder and President of Sudovox.
Since the start of the migration onto Ytel Voice, Sudovox has worked directly with a dedicated Engineer who walked them through Inter-Ops, testing, and training.
Using the Ytel Voice platform, customers receive the white-glove treatment that other companies claim to offer, yet the majority fall short on delivering. Customers enjoy access and control to their network, along with competitive pricing, access to billing in real-time, key data at their fingertips, and the ability to purchase numbers directly in the interface. Being a carrier, Ytel also has the ability to SMS enable these numbers for customers!
Ytel communication solutions enable businesses and developers to easily build SMS and voice capabilities into any application. Ytel's communication APIs improve customer experience and drive operational efficiency. As an enterprise carrier in the cloud, Ytel improves the speed and deliverability of your conversational business messaging without compromising security.