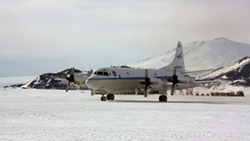 NASA has a legacy for making the impossible possible, and this happens to be Yulista's mantra. Together we will continue the legacy. -Mike Sanchez, Yulista Tactical Services, WFF/Team Lead
HUNTSVILLE, Ala. (PRWEB) October 01, 2018
On September 6, 2018, Yulista Tactical Services, LLC (YTS) was issued a task order adding the Wallops Flight Facility to their contract for NASA Aircraft Maintenance, Logistics, Integration, Configuration Management and Engineering (ALICE) with NASA's Goddard Space Flight Center. Under this task order YTS is privileged to support NASA GSFC/WFF and is providing support on multiple earth science missions such as: ORACLES, Operation IceBridge, CAMP2EX, ACT-America and U.S. Navy Fleet Carrier Landing Practice (FCLP). At GSFC/WFF, YTS is responsible for maintaining the P-3 Orion, B-200 King Air, C-130 Hercules, T-34C, C-23 and UH-1. Services provided include aircraft maintenance and operations, airfield operations, air traffic control and fueling. With the addition of the NASA GSFC/WFF Task Order, YTS is now supporting three of NASA's centers which includes Johnson Space Center (JSC), Langley Research Center (LaRC) and GSFC with employees located at four separate airfields. The official task order start date is October 1, 2018.
"I am extremely honored to be a partner with the NASA GSFC/WFF Team. The breadth of operations within the NASA GSFC/WFF organization is amazing. Here at Wallops, our NASA/YTS partnership is involved in executing a wide range of earth science missions and airfield operations and support for NAVY FCLP. NASA has a legacy for making the impossible possible, and this happens to be Yulista's mantra. Together we will continue the legacy."
-Mike Sanchez, Yulista Tactical Services, WFF/Team Lead
In addition to fixed-wing and rotary-wing maintenance, YTS provides flight operations services, logistics, maintenance training, simulator instructional training, engineering and operational support for a variety of manned/unmanned fixed-wing airframes, engines and support equipment. Aircraft supported include the WB-57, Gulfstream III, Gulfstream V, the T-38N, UC-12B, HU-25A, C-20A and the Super Guppy. These aircraft support numerous engineering missions, training of new astronauts and many other vital NASA programs such as Earth Science, Space Launch System, Oceans Melting Greenland (OMG) campaign, Orion, and commercial space partnerships.
YTS is fully committed to supporting the NASA mission by providing the highest quality aircraft maintenance, engineering, flight operations, and logistics to meet their unique and dynamic program requirements.
For more information about Yulista Holding, LLC and its family of companies, visit http://www.yulista.com.