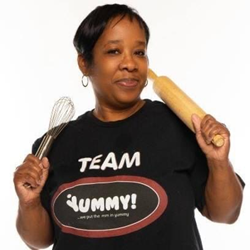 We put the "mm" in yummy!
INDIANAPOLIS (PRWEB) September 17, 2020
Yummy's trademark delightful and delicious desserts are a rich tapestry of over 40 years of family tradition steeped in love and passed on from generation to generation. Their desserts are handmade, guaranteed to provide a mouth-watering experience that will awaken taste buds and its customers coming back for more. Yummy stands strong on its recipe integrity which is their guiding principle.
Yummy's flagship dessert are "The Best Mexican Wedding Cake Cookies" which are a perfect blend of butter, sugar, pecans and vanilla. Yummy also offers their Luscious Lemon Cake Square with Lemon Glaze, BIG and Bad Bodacious Brownies, Scrumptious Sweet Potato Pie, and their Uncompromising Champion Chess Pie.
Yummy not only offers delicious and delightful desserts they have introduced a Wholesale Partner program for other local businesses like Georgetown Market to resell their signature products. Yummy will begin hiring for their Affiliate Program early November of 2020. Their Affiliate Program offers an extensive sales and marketing training series, customized lead list, starter kit, (Customer Relationship Management) CRM software, an excellent commission structure, a bimonthly payout schedule, and an end of year ceremony with Top Seller recognition. Yummy promises to put the "mm" in yummy.
For more information feel free to contact their office at 317-572-7515.