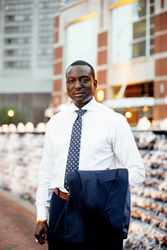 SEATTLE (PRWEB) August 28, 2020
Recipient of the President's Life Time Achievement Award from President Obama and board member of the Innocence Project (the #1 nonprofit for criminal justice reform,) Yusef Salaam will headline the virtual 2020 Racial Equity Forum on Wednesday, September 9th, 2020, at 1pET.
Yusef, a motivator and proponent of social justice, is one of the "The Exonerated Five" whose true story was told in the 2019 award-winning Netflix feature series "When They See Us," executive produced by Ava DuVernay, Oprah Winfrey and Robert De Niro.
In a pandemic-stricken society, the 2020 Racial Equity Forum, hosted by Janet M. Harvey and inviteCHANGE, provides space for relevant and substantial thought-leadership to discover solutions and launch committed action for ongoing equity building in the United States.
Yusef will speak at the opening session at 1pET, then lead a breakout session on Criminal Justice System Reform at 4:30pmET.
In a frenzied case that rocked the city, at the age of just 15 years old, Salaam, along with four other Black and Latino boys, were convicted of a heinous crime in New York City's Central Park. Dubbed "The Central Park Five," they were ultimately exonerated and convictions vacated when unidentified DNA in the case, not linked to any of the boys, was linked to its owner, who confessed. The boys, now men, spent between seven (7) and thirteen (13) years behind bars.
Since his release 20 years ago, Yusef has committed to advocacy and education on the issues of: false confessions, police brutality and misconduct, press ethics and bias, race and law, and the disparities in America's criminal justice system.
Yusef's sessions and the virtual forum, in total, are a timely and bold kick-off to the 2020 Global Leaders Conference, a 3-day virtual social progress event.
For more information about the 2020 Racial Equity Forum, visit http://www.RacialEquityForum.com.
Learn more about the full 3-Day 2020 Global Leaders Conference, a social progress event, at http://www.bechoosecause.com.
Pre-Event Interviews and Virtual Media Credentials are Available.
###
ABOUT THE FOUNDER, JANET M. HARVEY
Visionary and host of the Racial Equity Forum and 2020 Global Leaders Conference, Janet is a coach, author, educator and speaker who invites people to "be the cause of the life that most matters to you." Janet is CEO of inviteCHANGE, a success-culture building coaching organization for companies. She has trained leaders at Fortune 500 companies across six continents, for nearly 25 years. As a result, in addition to her cause-driven work, Janet believes corporate leaders and coaches are the ideal group to drive change due to the diversity of perspectives and tested approaches to problem solving. Janet is also an ICF Global Past President, Certified Mentor Coach, International Coaching Federation (ICF) Master Certified Coach and an Accredited Coaching Supervisor.