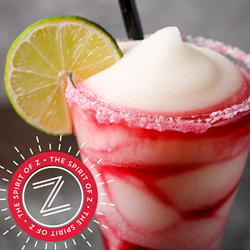 We're passionate about Z'Tejas and 'Spirit of Z' is about sharing that with our customers," said Daniel Santos, Director of Operations for Z'Tejas. "We want to remind customers of why they fell in love with us in the first place, and celebrate the amazing work of our employees
PHOENIX (PRWEB) September 04, 2018
Cornbread Ventures LP, the Austin-based partnership which owns Z'Tejas, today announced the launch of 'Spirit of Z' - a comprehensive initiative to pay tribute to the Z'Tejas brand's roots which are synonymous with delicious southwestern food, great drinks and exceptional service.
Home of the complimentary cornbread and the iconic Chambord® frozen margarita, the campaign is being timed with Z'Tejas' 29th Anniversary and will feature special promotions, in-store celebrations and an employee recognition program. Spirit of Z will be dovetailed by a comprehensive marketing initiative to highlight the brand's ethos of innovation, community and creativity in the kitchen.
"We're passionate about Z'Tejas and 'Spirit of Z' is about sharing that with our customers," said Daniel Santos, Director of Operations for Z'Tejas. "We want to remind them of why they fell in love with us in the first place and celebrate the amazing work of our employees, some of whom have been with us for more than two decades."
The popular casual southwestern Mexican dining restaurant first opened its doors in a Victorian heritage home in 1979 in Austin, TX and soon became the preferred dining spot for people seeking great food in a welcoming and familiar environment. This original Z'Tejas Austin location on 1110 W. 6th Street, as well as its 9400 Arboretum address, are open, and so are two favorite Arizona locations in 10625 N. Tatum Blvd. in Paradise Valley and 7221 W. Ray Road in Chandler.
In-Store Celebrations Honor Z'Tejas Southwestern Roots
Z'Tejas food and drink menus at all four locations continue to offer southwestern food with a twist. Classics like cornbread in a skillet, the Z'Tejas signature Chambord margarita, fresh chips and salsa, and tostada bites continue to be menu staples. Never frozen and always fresh, the classic food menu has been enhanced with new introductions including a Southwest Vegan Quinoa Bowl and a Kale & Brussels Sprouts Salad – both part of a Z'Fresh lunch menu introduced in response to customer feedback.
In honor of its anniversary, every Wednesday in September starting September 5th in the original 6th St. location, one of the four Z'Tejas locations will be hosting a birthday celebration featuring all-day special promotions including Kids Eat Free with the purchase of an entrée, $5.00 queso, $5.00 6th Street Margaritas, and complimentary birthday cake. Live music will start at 4:00 pm. The Z'Tejas Arboretum celebration will take place September 12, and Arizona will follow with Chandler festivities taking place September 19th and Paradise Valley on September 26th.
A Brand Worth Investing In
Since acquiring the Z'Tejas brand in 2015, Cornbread Ventures LP has prioritized establishing effective channels of communication with employees and customers and sparking feedback. This feedback has informed many of the investments Cornbread Ventures has made on the brand and is credited by the leadership for the success and the strength of its four Z'Tejas locations.
"The business is in a strong place. In addition to prioritizing the voice of the customer and employees and investing in menu updates and a re-brand, we have allocated significant resources to training and hiring," said Michael Stone, General Partner of Cornbread Ventures, LP. "We run as a flat organization and each manager and unit is fully empowered to make decisions that will address the unique tastes and needs of their guests. As a result, we remain flexible and have been better able to adapt to the specific tastes and preferences of guests in each of our markets."
An Active Member in Its Communities
Z'Tejas has been recognized for its genuine commitment to community-based charities like the Phoenix Children's Hospital (PCH) Foundation and San Antonio-based AVANCE. This September, both Arizona locations will participate in PCH's Time to Shine initiative and donate 70% of the proceeds of all its Chile con Queso sales to the non-profit. In Austin, employees are donating food as well as volunteering on behalf of Z' Tejas in support of under-resourced families.
Other community initiatives include a special year-long discounted teacher appreciation menu and an on-going 'Kids Eat Free' promotion every Sunday afternoon.
About Z'Tejas Southwestern Grill
Z'Tejas is a popular casual southwestern Mexican dining restaurant that offers a wide array of fresh, flavorful, and innovative menu items inspired by culinary influences from Louisiana, Texas, California and New Mexico. Today, there are a total of four Z'Tejas locations in Arizona and Texas. For more information about Z'Tejas' award-winning margaritas, menus, locations and hours visit http://www.ztejas.com.