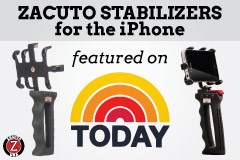 (PRWEB) November 19, 2013
NBC's The Today Show host Erica Hill and Emmy Award winning Digital Lifestyle Expert Mario Armstrong include the Zacuto iPhone stabilizers in their top three tips for getting great holiday video with a smart phone. Tip number three is all about Stabilizing That Shaky Video with a tripod or the Zacuto iPhone stabilizing accessories – Zgrip iPhone Jr and Zgrip iPhone Point'n'Shoot.
These products make great gifts for the tech savvy and budding filmmakers. Zacuto is offering the coupon TODAY5 at checkout on our website to receive 5% off these amazing accessories. Now anyone can create beautiful, stable video memories this holiday season.
Watch Erica and Mario discuss the Zacuto iPhone stabilizers on The Today Show.
Zgrip iPhone Jr
The Zgrip iPhone Jr. is a basic, lightweight handgrip compatible with all iPhone 3 and 4 models. It couldn't be easier to use! Push an iPhone into the Zacuto cradle and it's ready to shoot. The handgrip has a ¼ 20 threaded screw hole on the bottom for mounting to a tripod and a ¼ 20 thread on the top for mounting accessories such as a light.
Zgrip Point'n'Shoot
This portable iPhone stabilizer is perfect for the iPhone cinematographer on the go. Simply press an iPhone into the grip and snap the grip onto the handle for stable shooting in a matter of seconds. Quickly breaks down into two pieces to fit into a pocket. The handgrip is equipped with a ¼ 20 threaded screw hole on the bottom to mount to a tripod. Compatible with all iPhone 3 and 4 models.
If you are interested in either of these products visit our website.
ZACUTO, located in Chicago, Illinois, is known for their "Made in the USA" brand of high quality, originally designed camera accessories. Zacuto Films produces original programming with EMMY's won in 2010, 2011, and 2012 (Midwest region) or follow @Zacuto on Twitter. 888-294-3456.