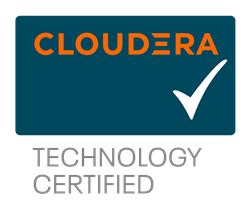 "The Zaloni Arena platform coupled with CDP enables data governance across the end-to-end data supply chain to deliver timely, secure, and high-quality data for modern analytics, AI, and ML." - Gary Green, Vice President of Strategic Partnerships, Cloudera
RESEARCH TRIANGLE PARK, N.C. (PRWEB) January 19, 2022
Zaloni™, an award-winning leader in data governance and DataOps, today announced certification on the Cloudera Data Platform (CDP). Zaloni's data governance platform, Zaloni Arena, is now a Cloudera Certified Technology and has been tested, validated, and certified to work with the Cloudera Data Platform.
"We are thrilled to advance our partnership with Cloudera through certification of the Zaloni Arena platform," said Ashwin Nayak, Vice President of Engineering at Zaloni. "The powerful combination of Zaloni Arena on top of CDP helps companies catalog data at the source, execute workflows in multi-cluster mode and securely share trusted data, ensuring efficiency and increasing time to value."
Zaloni Arena offers full support for CDP providing customers with enhanced data governance capabilities on top of their CDP deployments. Zaloni Arena rapidly and securely delivers trusted data through a single control plane to catalog, govern, and safely share data across the enterprise. Arena empowers decision-making through a collaborative and intelligent data catalog, automated data governance, unified observability, and self-service data access.
"With Cloudera Connect Technical Certifications, our partners can unlock the potential of the enterprise data cloud to drive the most valuable and transformative use cases for companies," said Gary Green, Vice President of Strategic Partnerships at Cloudera. "The Zaloni Arena platform coupled with CDP enables data governance across the end-to-end data supply chain to deliver timely, secure, and high-quality data for modern analytics, AI, and ML."
CDP is a new approach to enterprise data, anywhere from the edge to AI. By simplifying operations, it reduces the time to onboard new use cases across the organization. The platform uses machine learning to intelligently autoscale workloads up and down for more cost-effective use of cloud infrastructure. With Cloudera's Shared Data Experience (SDX), and the security and governance capabilities in CDP, IT can confidently deliver secure analytics running against data anywhere. CDP manages data in any environment, including multiple public clouds, bare metal, private cloud, and hybrid cloud. The Cloudera Data Platform offers game-changing technology that lets companies harness diverse data to solve important business problems.
Together, the Zaloni Arena platform and the Cloudera Data Platform help companies manage and govern data throughout the end-to-end data supply chain to improve data quality, ensure data security and reduce time to insights.
To learn more about the partnership, download the partner brief.
About Zaloni
Our intelligent governance and observability software, the Zaloni Arena Data Governance platform, rapidly and securely delivers trusted data for advanced analytics and AI/ML use cases. Zaloni Arena brings efficiency to complex data environments through an intelligent and collaborative data catalog, automated governance, and unified observability to reduce IT costs and accelerate time to insight. We work with the world's leading companies, delivering trusted data through a governance platform that both improves and safeguards enterprises' data assets. To find out more, visit http://www.zaloni.com.
Media Contact:
Annie Bishop
abishop@zaloni.com