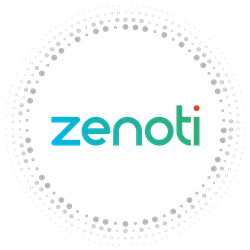 "We now have the tools we need as a growing brand – tools that make both growth and managing multiple locations easier," said Sam Provenzano, Owner, Zano Salon & Spas.
BELLEVUE, Wash. (PRWEB) June 29, 2020
Zenoti will partner with Zano Salons to provide cloud management software capable of unifying operations to realize growth potential while also meeting new post-COVID customer expectations. Zano Salons offers customers luxury salon and spa services across four locations and one academy in Illinois.
Zano Salons needed a cloud software system that provided a shared database – a single source of truth – across locations. Zenoti provides Zano Salons with this solution and an unprecedented level of ease and convenience in accessing data to form powerful insights across all locations. As Zano Salons continues to grow, Zenoti's powerful technology will unify operations and streamline management by providing convenient insights into everything from inventory needs by location to personalized marketing appeals.
With Zenoti's smart marketing solutions, Zano Salons now engages in targeted, data-driven strategies. Zano Salons can reach the right customer, with the right message, through the right method via the power of automated marketing. Zano Salons will use their new marketing capabilities to communicate with customers effectively in the post COVID-19 world. For example, customers may receive an automated text message and/or email confirming appointment details, including new policies and check-in instructions, after booking.
As part of post-COVID health and safety measures, Zano Salons now offers customers digital forms options. After booking appointments, customers will now receive automated digital forms relevant to their services. Digital forms include everything from in-take forms to specialized service consent forms. Customers can complete and submit digital forms at home or before entering the salon for their appointment. Digital forms help customers avoid contact with frequently touched surfaces and unnecessary interactions with front-desk staff, encouraging social distancing while saving everyone time.
"Ensuring the health and safety of our customers and employees is a top priority. Zano Salons has always been committed to providing clean and sanitary experiences for our customers and employees. We now have additional solutions to provide even safer experiences for our customers and employees post-COVID. We also have the tools we need as a growing brand – tools that make both growth and managing multiple locations easier," said Sam Provenzano, Owner, Zano Salon & Spas.
For more information concerning Zenoti's partnership with Zano Salons, please contact press@zenoti.com.
ABOUT ZENOTI
Zenoti provides an all-in-one, cloud-based software solution for the spa, salon and med spa industry. The Zenoti platform is engineered for reliability and scale, harnessing the power of enterprise-level technology for businesses of all sizes.
Zenoti powers thousands of spas and salons in more than 50 countries. Zenoti allows users to seamlessly manage every aspect of the business in a comprehensive mobile solution: online appointment bookings, POS, CRM, employee management, inventory management, built-in marketing programs and more. Zenoti helps clients streamline their systems and reduce costs, while simultaneously improving customer retention and spending.
To learn more about Zenoti, visit https://www.zenoti.com or follow us on Twitter, Facebook, Instagram, and LinkedIn for the latest news and updates.