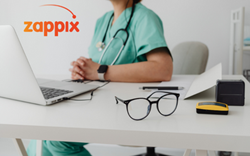 "We are excited to bring our Digital Patient Engagement solution to another healthcare provider," "Every Gastroenterology department can enjoy exceptional benefits using Zappix solution - such as eliminating late cancelations and reschedules, reducing no-shows, higher conversion of referrals to book
BURLINGTON, Mass. (PRWEB) February 23, 2023
Zappix, a leading provider of Digital Patient Engagement solutions and On-Demand Visual Self-Service, has signed with a healthcare provider in the United States for their Gastroenterology department, further solidifying its position in the healthcare industry. The healthcare provider has chosen Zappix's innovative Digital Patient Engagement platform to transform patient experience (PX), improve patient outcomes, and improve staff utilization.
Zappix's Digital Patient Engagement Solution helps providers tackle the costly effects of patient no-shows and rescheduling. Zappix's interactive solution leverages proactive reminders and pre/post-procedure guidance to increase revenue and streamline operations. With reduced no-shows and improved patient preparedness, the solution helps you avoid revenue loss. The automated system also frees staff from repetitive and mundane tasks, allowing them to focus on more productive activities, and enhances patient education to reduce rescheduling.
"We are excited to bring our Digital Patient Engagement solution to another healthcare provider," said Yossi Abraham, President & CEO of Zappix. "Every Gastroenterology department can enjoy exceptional benefits using Zappix solution - such as eliminating late cancelations and reschedules, reducing no-shows, higher conversion of referrals to booked appointments, all while transforming Patient Experience."
The solution includes a full suite of features such as pre, and post-procedure instructions, appointment scheduling and confirmation, referral management, and patient recalls, providing a comprehensive platform to improve patient engagement and outcomes.
Zappix's platform can be launched in under four weeks with a minimal learning curve for staff, delivering results quickly and efficiently with minimal IT involvement.
About Zappix
Zappix transforms the patient journey with easy-to-use, modern digital patient engagement tools to improve the quality of care and increase patient satisfaction and loyalty. The cloud-based solutions enable workflow automation, rapid developments, seamless integration to EMRs & back-end systems, and provide a comprehensive Analytics Suite.
Zappix provides significant benefits and ROI by improving quality of care, increasing patient satisfaction and loyalty, improving financial outcomes, and increasing hospitals' competitive advantage and positioning.
To learn more about Zappix, go to healthcare.zappix.com.
Contact
Zappix, Inc.
marketing@zappix.com
(781) 739-2770
Payge Wufsus
payge.wufsus@zappix.com