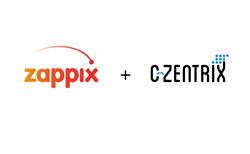 I look forward to working with the team at C-Zentrix to offer powerful solutions for contact centers on multiple continents.
BURLINGTON, Mass. (PRWEB) November 27, 2018
Zappix Inc., the fast-growing, emerging Visual IVR industry leader, has partnered with contact center and Customer Experience software company, C-Zentrix to reach new markets and enhance customer service automation and self-service capabilities for the Next-Gen Mobile On-Demand CX platform.
The announcement highlights a global partnership focused on software innovation, integrated solutions, and synergetic business solutions. The partners share a focus on improving customer care and creating omnichannel solutions for corporations looking to increase agent efficiency and customer satisfaction.
"I look forward to working with the team at C-Zentrix to offer powerful solutions for contact centers on multiple continents," said Yossi Abraham, Zappix president. "C-Zentrix solutions are innovative and provide great capabilities to their customers and to potential joint prospects. Zappix Mobile On-Demand Visual IVR solutions help businesses reduce costs, improve call containment, and grow customer loyalty. The synergy is greatly beneficial to our customers."
Zappix Mobile On-Demand technology provides consumers with an 'app-like experience' without the need to download an app. The cloud-based solution provides workflow automation, omnichannel accessibility, rapid deployments, and seamless integration into IVRs & back-end systems.
"Creating and cultivating innovative contact center technology has always been the goal of C-Zentrix," said Saket Setu, C-Zentrix CEO and Co-Founder. "Zappix technology transforms the customer journey during contact center interactions, and provides a great connection to our core mission."
The partnership will greatly enhance the two companies — and benefits both Zappix and C-Zentrix customers and their consumers — by enhancing already robust, comprehensive, and valuable omnichannel, self-service solutions.
###
About Zappix
Zappix's cloud-based Visual IVR helps businesses improve the customer journey during contact center interactions through Mobile On-Demand functionality and digital self-service capabilities without the need to download a native app or connect to a live agent.
The Zappix Visual IVR suite provides significant benefits and ROI: reducing costs by increasing containment rates for contact centers, improving customer experience and Net Promoter Score (NPS), and creating new revenue opportunities using targeted promotional banners within the web-app to advance new offering
To learn more about Zappix, go to https://www.zappix.com
Contact:
Zappix, Inc.
Johnny Rosa, Marketing @ Zappix
+1 (781) 739-2770
About C-Zentrix
C-Zentrix is a leading Customer Experience and Contact Center Software company which has been recognized by Gartner multiple times. Its AI infused Omnichannel contact center platform enhances business to provide better business outcomes and superior customer experience.
C-Zentrix solution for Contact center comes with its robust telephony along with chat, chatbot, social media, Whatsapp integration and Speech based IVR. It has its own service CRM as well as integrates with leading CRMs, globally.
C-Zentrix customers find the solution as very scalable, cost-effective and customizable to their requirements.
To learn more about C-Zentrix, go to https://www.c-zentrix.com
Contact:
C-Zentrix, Inc.
Brian Garr @ C-Zentrix
+1 (561) 271-4750