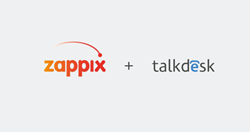 The partnership opens up new automation and engaging, on-demand, customer service capabilities for Talkdesk customers.
BURLINGTON, Mass. (PRWEB) September 18, 2018
The fast-growing Zappix, Inc. has partnered with Talkdesk, an enterprise contact center provider, to add powerful Visual IVR capabilities to the industry leader's AppConnect platform. Zappix Visual IVR is a self-service offering for smartphone users during customer service interactions, leading to improved customer experience, reduced costs, and revenue growth opportunities.
The partnership opens up new automation and improved customer service capabilities for Talkdesk customers. Zappix instant web-app technology allows customers to cater to consumer needs with engaging, on-demand, customer service experiences.
"We are excited to join the thriving AppConnect ecosystem," said Yossi Abraham, Zappix president. "The large and ever-growing Talkdesk install base provides a unique opportunity to extend our market reach while offering AppConnect customers a powerful opportunity to transform their CX by implementing intuitive visual menus and utilizing Robotic Process Automation (RPA) to improve speed and efficiency during the customer journey."
Zappix web-app technology provides the end user an 'app-like experience' without the need to download an app. The cloud-based solution provides workflow automation, omnichannel accessibility, rapid deployments, and seamless integration into IVRs & back-end systems.
"We are delighted to welcome Zappix to Talkdesk's AppConnect Partner Ecosystem," said Khurram Taji, Managing Director of AppConnect Partnerships & Operations. "Zappix shares our commitment to providing breakthrough customer experiences with a Visual IVR product that offers customers additional self-service support options resulting in handle time reduction, increased agent productivity, and improved customer experience."
The partnership is expected to provide great value to both companies — and benefits AppConnect enterprises and their consumers by providing a robust, comprehensive, and valuable self-service solution.
About Zappix
Zappix's cloud-based Visual IVR provides enterprises with a solution designed to improve the user journey during contact center interactions through mobile web-app functionality and digital self-service capabilities without the need to download a native app or connect to a live agent.
The Zappix Visual IVR suite provides significant benefits and ROI: reducing costs by increasing containment rates for contact centers, improving customer experience and Net Promoter Score (NPS), and creating new revenue opportunities using targeted promotional banners within the web-app to advance new offerings.
To learn more about Zappix, go to http://www.zappix.com
Contact:
Zappix, Inc.
Johnny Rosa, Marketing @ Zappix
+1 (781) 739-2770
About Talkdesk
Talkdesk Enterprise Contact Center Platform empowers companies to make customer experience a competitive advantage. With enterprise class performance and consumer-like ease of use, Talkdesk easily adapts to the evolving needs of sales and support teams and their end-customers, resulting in increased customer satisfaction, productivity and cost savings. Over 1,400 innovative enterprises around the world with thousands of seats, including IBM, Acxiom and Zumiez rely on Talkdesk to power their customer interactions. Learn more and request a demo at http://www.talkdesk.com.
Contact:
Talkdesk
Gavin Gustafson
Mobile: (801) 560-0073