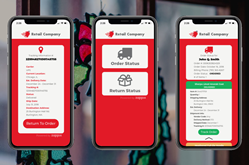 Our Digital Self-Service solutions lower costs at contact centers, improve customer satisfaction, and free up agents to focus on high-value, complex calls.
BURLINGTON, Ma. (PRWEB) December 18, 2018
Zappix, Inc. Digital Self-Service solutions are saving the company's retail clients thousands of dollars this holiday season. Every year, the weeks between Thanksgiving and Christmas mark a season of success and sales for retailers around the U.S. The exponential increase in volume is great for companies but creates challenges for customer communication and management. Zappix Visual IVR and Mobile On-Demand technology have​ helped its clients increase customer service efficiencies, streamline contact center processes, and provide thousands in savings to major retailers using Zappix robotic process automation (RPA) bots.
"We saw enormous success with our retail customers in 2017, and I am pleased to see that success will only grow in 2018," said Yossi Abraham, Zappix president. "Our Digital Self-Service solutions lower costs at contact centers, improve customer satisfaction, and free up agents to focus on high-value, complex calls. The entire Zappix team is excited to bring these benefits to more customers this year, and going forward into 2019."
Modern consumers expect new advancements in responsiveness during retail interactions. Today's on-demand, subscription economy has created a consumer market that demands speed, self-service, and mobility.
Complex IT ecosystems in the retail industry combined with large, multifaceted supply chains might create siloed environments that can slow down and sometimes prevent successful customer interactions.
Zappix cloud-based Digital Self-Service solutions leverage the speed of Mobile On-Demand technology and the convenience of Visual IVR to provide consumers the experiences they demand. Retailers using Zappix solutions benefit from:

Lower contact center costs
Reduced calls to agents
Improved customer experience (CX)
Automation of repetitive processes, freeing live agents to focus on high-value tasks
Shorter average handling times per call
Targeted revenue growth opportunities
Zappix automation seamlessly integrates with any CRM and back-end system to connect customers directly to retailers. The drag-and-drop Zappix Studio makes editing and launching new implementations fast and painless, while the Zappix Analytics Suite tracks consumer input and provides reports analyzing consumer behavior and market trends. Together, each part of the Zappix platform gives retailers the power to improve customer communication during this peak season.
About Zappix
Zappix provides Digital Self-Service solutions, offering an 'app like experience' through Mobile On-Demand & Visual IVR. The cloud-based solutions transform the customer journey during contact center interactions without the need to download a native app or connect to a live agent. The open platform enables workflow automation, rapid deployments, and seamless integration to IVRs & back-end systems.
The Zappix solution provides significant benefits and ROI: reducing costs by increasing containment rates for contact centers, improving customer experience and Net Promoter Score (NPS), creating new revenue opportunities using targeted promotional banners within the On-Demand App to advance new offerings, and automation of revenue generating use-cases.
To learn more about Zappix, go to https://www.zappix.com
Contact:
Zappix, Inc.
Johnny Rosa, Marketing @ Zappix
+1 (781) 739-2770