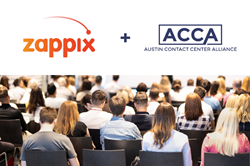 Zappix users love the speed and simplicity of accessing any detail, schedule, or more right from the event floor thanks to on-demand technology and their smartphones.
BURLINGTON, Mass. (PRWEB) August 27, 2019
Zappix, the leader in on-demand customer service solutions, has partnered with the Austin Contact Center Alliance (ACCA), a not-for-profit collective of contact center professionals, to provide fast, simple, and convenient event information, integrated schedules, and other connected digital features to members and attendees of this year's ACCA Fall Symposium.
Zappix conference and event solutions have successfully increased attendance and engagement for a variety of industry conferences and professional associations around the world. Zappix On-Demand Apps deliver modern engagement to attendees through a variety of digital channels including outbound text and email messages before events, direct links to robust knowledge bases and other information in digital communications, and strategic access points during events.
"We are excited to provide immediate digital connections to knowledge bases and event information through this partnership with Zappix," said Mark Brody, ACCA president. "Their innovative solution provides the same great care and helpful connections to our attendees that our members provide to customers every day."
The innovative Conference & Event Solution offers a wide range of capabilities to events and attendees:

On-Demand App providing critical information including location, agenda, speakers, and sponsors
Outreach for driving registration through a wide range of digital messaging
Text and Email reminders before events
Real-time digital feedback forms and surveys
Active sponsor interaction with attendees during events
"Contact center and customer care professionals know first hand the benefits fast, mobile, easy to navigate service can be for customers and users," said Rhonda Rohtstein, director of business development at Zappix. "Zappix users love the speed and simplicity of accessing any detail, schedule, or more right from the event floor thanks to on-demand technology and their smartphones."
Zappix On-Demand Apps and active interaction tools allow attendees to instantly obtain additional sponsor information, collect personal notes during events, and securely send the collected information to their own emails for reference after the event. The tools help attendees cultivate a more beneficial and productive event.
About Austin Contact Center Alliance
The Austin Contact Center Alliance (ACCA) is a dynamic, professional organization that serves as Central Texas' resource for industry information, networking, and educational opportunities. Our mission is to foster solutions that meet the needs of the Central Texas contact center industry through networking, professional development, and community leadership. We are proud to promote the contact center industry and create a professional identity for our members. Our members consist of industry professionals from contact centers of all sizes, vendors and other support organizations. It is through the great diversity of our membership that we can provide a source for education, networking, and community.
About Zappix
Zappix delivers On-Demand Customer Service Solutions: Visual IVR, On-Demand Apps, Outbound Engagement and Robotic Process Automation (RPA). The cloud-based solutions improve the customer journey during contact center interactions. The open platform enables workflow automation, rapid deployments, and seamless integration to back-end systems (CRMs, ERPs, etc.), and IVRs, and provides a comprehensive Analytics Suite.
The Zappix solution provides significant benefits and ROI: reducing costs by increasing containment rates for contact centers, improving customer experience and Net Promoter Score (NPS), creating new revenue opportunities using targeted promotional banners and automation of revenue generating use-cases.
To learn more about Zappix, go to http://www.zappix.com
Contact
Zappix, Inc.
Johnny Rosa, Marketing @ Zappix
+1 (781) 739-2770