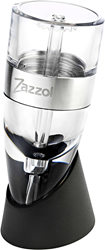 We have so many people buying multiple Zazzol wine aerators for gifts and the feedback has been wonderful.
(PRWEB) November 27, 2014
Earlier this year, Zazzol announced the release of their new wine aerator. Available on Amazon.com, this product has rapidly become a very popular gift idea. Ranked as the best selling product in the "Decanters" section, the Zazzol wine aerator has proven to deliver a premium quality that sets itself apart from other similar products. With the arrival of the holiday season, people looking for practical, affordable and quality gift ideas are turning to Zazzol. Consequently, the company has decided to reward customer loyalty by offering a limited time 20% discount, while current supplies last.
Jill Taylor, spokeswomen for Zazzol describes some of the features of their wine aerator that consumers find so appealing: "Customers appreciate that our wine aerator incorporates a unique patented design that's like no other aerating system in the world. When you pour wine from our aerator it goes through a three stage process that effectively oxygenates the wine.
Your wine is fully aerated almost instantly. Sulfites, tannins and other compounds that degrade wine flavor are removed, leaving a full-bodied, balanced wine that tastes better than ever before. The streamlined, attractive design is easy to use and highly function, which also appeals to customers. We have so many people buying multiple Zazzol wine aerators for gifts and the feedback has been wonderful."
The Zazzol wine aerator has more than 300 five-star reviews on Amazon.com, testament to the quality of the design:
"Does exactly what it claims- highly recommended." - Taryn
"Love the fact that you can take it apart and clean it thoroughly!" – J. Diaz
"A perfect gift for any of your wine-loving friends and relatives!" – Michele
The patented 3-stage wine aeration system also solves many problems associated with other designs. This aerator doesn't overflow, drip, leak or present neck fitting problems. It's hassle-free and easy to use. The Zazzol is so robust that it can also be cleaned in the dishwasher.
Sold with a beautiful gift box, elegant stand, travel pouch, and comprehensive user manual, the Zazzol wine aerator has everything needed to make pouring the ideal glass of wine easy. Zazzol is committed to 100% customer satisfaction and offers a lifetime guarantee, giving consumers risk-free buying. The first 100 customers that use coupon code EXCS2626 during the checkout process on Amazon.com will qualify for a 20% discount. This also includes free shipping. Anticipated to be a very popular gift item, Zazzol expects this special offer to attract lots of interest.
About Zazzol
Zazzol specializes in beverage and cooking accessories with a mission to deliver high-quality, creative products that not only provide useful utility, but reinforce enjoyment and satisfaction in beverage and food.