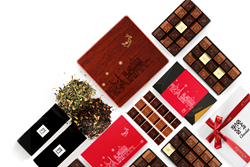 A gourmet gift that delivers luxury healthy flavors while staying stylishly on-point is easier than ever
FORCALQUIER, France (PRWEB) December 01, 2018
Each year, chocolate aficionados and gourmet gifters eagerly await the unveiling of ultra-luxury brand zChocolat's winter collection. Featuring special limited-edition packaging and the most sought-after recipes from Master World Champion Chocolatier Pascal Caffet, the 2018 Christmas collection has become a go-to option for discerning holiday shoppers and a favorite indulgence for lovers of fine French chocolate.
Comprised of 15 stunning products, the 2018 Christmas Collection includes offerings designed to address holiday needs ranging from stocking stuffers to extravagant large group gatherings. Particularly noteworthy is the inclusion of 2 zChocolat Tea & Chocolate ZBoxes which pair some of the finest Chinese teas with the Z chocolate numbered collection and its new line of luxury bars. Three exceptional flavors packaged in two Christmas gifts made in heaven: the XMAS TEA & CHOCOLATE ZBOX 25 and the XMAS TEA & CHOCOLATE ZBOX 45.
As increasingly health-conscious consumers are demanding more than ever from their chocolates, including a focus on natural, Vegan, high quality, ingredients, zChocolat's all-natural Vegan selection features exceptional French chocolates and delicacies made from single origin cocoas free from artificial ingredients, preservatives, animal or dairy products. With decadent flavors and impeccable quality, each recipe from Master World Champion Chocolatier Pascal Caffet is a guilt-free invitation to indulge in the world's finest chocolates, pâtes de fruit, truffles and other Vegan specialties.
All members of the 2018 Collection display zChocolat's typical flair for sophisticated packaging with a special seasonal touch. Each box showcases Paris's iconic monuments beneath golden speckles of snowflakes capturing the wonder and awe of the year's most anticipated moments, making them gift-ready even without any additional wrapping. The company's ZBox ballotins are especially festive, trading in their hallmark black and white colors for an eye-catching crimson red.
Like every zChocolat product, items from the Christmas Collection can be additionally customized with a personalized note card, engraved with the recipient's name, or even marked with a company logo (ideal for holiday business gifts).
As the preeminent source for fine French chocolate, zChocolat is widely celebrated for their distinctively-shaped line of signature chocolates and carefully sourced high-quality ingredients. With a flair for artisanal details and boundless customization options, the zChocolat brand has epitomized the expression "chic à la française" since its founding in 1999.
The zChocolat Christmas Collection, along with a wide range of other distinguished chocolate gifts, are available online exclusively at their website, http://www.zchocolat.com. All zChocolat gifts can be shipped directly from France to 253 destinations around the world via DHL Express for a flat fee of $20.