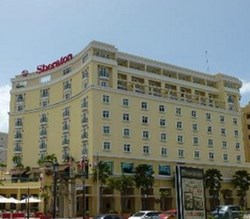 We're very excited to showcase our newest tool at the CCTA conference. This will be a game changer for the cable industry.
Alpharetta, GA (PRWEB) January 23, 2014
ZCorum, a leading provider of managed broadband services and diagnostics software, will be exhibiting next week at the Caribbean Cable and Telecommunications Association's (CCTA) Annual Meeting in Puerto Rico. At the show ZCorum President and CEO, Julie Compann and Arthur Skinner, Vice President of Worldwide Sales, will debut a new tool that makes use of pre-equalization data so it can be used for proactive network maintenance.
In addition, ZCorum will be demonstrating new features that have been added to their popular TruVizion diagnostics software and mobile app TechVizion. "One feature that folks in the Caribbean have asked for is the ability to add non-geocoded customer modems to the map in our software," said Skinner. "TruVizion now allows you to easily place a pin on the map where the subscriber is located. Or, if you're at the customer's location, you can add a pin with just a tap in TechVizion."
While at the show, Skinner will be participating in the Technical Highlights Session, where he'll present to meeting attendees information about TruVizion, as well as the new product. "We're very excited to showcase our newest tool at the CCTA conference. This will be a game changer for the cable industry, allowing them to reduce maintenance costs and improve customer satisfaction," said Skinner.
"Our mission at ZCorum is to provide tools and support that enable our customers to offer better broadband service to their local subscribers at a lower cost," said Compann. "We look forward to meeting with our Caribbean customers and prospects at the CCTA to show our newest solutions to make that happen."
The Caribbean Cable and Telecommunications Association annual meeting takes place next week, January 27th through the 29th at the Sheraton Old San Juan in Puerto Rico. The Technical session will take place from 9:30 to 11:30 on January 28th.
About ZCorum
ZCorum provides broadband Internet and communication solutions to telcos, cable companies, utilities, and municipalities, assisting in all facets of broadband implementation, integration, engineering and consulting, network monitoring bandwidth management and diagnostics. ZCorum also offers data and VoIP provisioning, email, Web hosting, and 24x7 support for end-users, enabling service providers to compete effectively in their local rural and suburban markets. ZCorum is headquartered in Alpharetta, GA. For more information, please visit http://www.ZCorum.com.