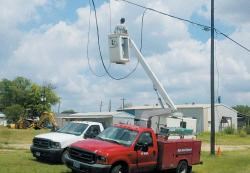 We switched to ZCorum from another provider because of the exceptional quality of service ZCorum delivers. If there's an issue overnight, by morning I already have an email detailing the issue and what steps were taken to correct it.
Alpharetta, GA (PRWEB) January 16, 2014
ZCorum, a leading provider of managed broadband services and diagnostics for cable and broadband providers, announced the successful launch of a complete suite of services for Reveille Broadband, a cable provider serving rural Texas with high speed Internet, digital phone and cable TV. In addition to 24/7 customer support for Reveille's subscribers, ZCorum is providing Reveille with a full service solution for their broadband operations including network monitoring and subscriber provisioning. Reveille also has access to TruVizion, ZCorum's cable modem monitoring and diagnostics tool and its companion mobile app TechVizion.
Prior to signing with ZCorum, Reveille had been receiving monitoring and diagnostic support tools from another service provider but had begun looking for a solution that would better meet their needs. According to Cory Savage, Chief Technician for Reveille, "We switched to ZCorum from another provider because of the exceptional quality of service ZCorum delivers. The technical proficiency of their call center staff, and their highly-functional software portfolio was the perfect solution for us." He continued, "We've already found their customer service level to be first class. If there is an issue overnight, by the time I get to the office the next morning I already have an email detailing what the issue was and what steps were taken to correct it."
TruVizion, ZCorum's award-winning diagnostics and monitoring software, is providing Reveille the means to quickly and cost-effectively address and resolve customer issues, reduce truck rolls, call handle time and mean-time-to-repair, as well as to achieve higher levels of organizational performance. The implementation of this suite of solutions will enable Reveille to continue to exceed their customers' expectations for outstanding products and services for many years to come.
Savage stated that Reveille has used other tools in the past, but TruVizion is the best they had ever worked with. He also added that the mobile app, TechVizion, is providing a significant decrease in their field tech's time in the field. "It's so nice to not have to go find a laptop to see a diagnostics screen. And it's great when I'm out in the field to be able to call a customer right from the app without having to search for their contact info on a clipboard somewhere."
"We're so happy to have Reveille in our ZCorum family. Our heritage in the cable industry gives us a unique insight into what resources operators such as Reveille Broadband truly need to stay ahead of their competition, and to give their customers the high level of service to which they are entitled," said ZCorum's President and CEO, Julie Compann. "We pride ourselves on a strong customer focus as well as an ongoing commitment to provide the industry's best integrated software and services."
About ZCorum
ZCorum provides broadband Internet and communication solutions to telcos, cable companies, utilities, and municipalities, assisting in all facets of broadband implementation, integration, engineering and consulting, network monitoring bandwidth management and diagnostics. ZCorum also offers data and VoIP provisioning, email, Web hosting, and 24x7 support for end-users, enabling service providers to compete effectively in their local rural and suburban markets. ZCorum is headquartered in Alpharetta, GA. For more information, please visit http://www.ZCorum.com.
About Reveille Broadband
Based in Lexington Texas, Reveille Broadband is a media and communications company serving rural communities with offerings in video, broadband and VoIP. Reveille's offerings are comparable to big city cable companies while maintaining that small town service and hospitality. For more information on Reveille Broadband, please visit their website at http://www.reveillebroadband.com/.