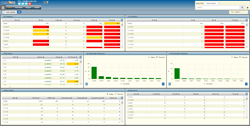 "One of the greatest challenges for operators is to find a way to unify DOCSIS and PON management platforms into their existing backend EMS and NMS platforms.
ALPHARETTA, Ga. (PRWEB) October 08, 2020
ZCorum, an industry leader in diagnostics tools for broadband providers, announced today that their TruVizion Fiber diagnostics application was recognized among the best in the industry by receiving 4 Diamonds out of a possible 5 in BTR's 2020 Diamond Technology Reviews.
"On behalf of the Broadband Technology Report's 2020 Diamond Technology Reviews, I would like to congratulate ZCorum on their 4 Diamond honoree status", said Broadband Technology Report's Chief Editor, Stephen Hardy. "This program recognizes and rewards the top products and solutions available to the broadband cable industry." As one Diamond Review judge commented, "One of the greatest challenges for operators is to find a way to unify DOCSIS and PON management platforms into their existing backend EMS and NMS platforms. TruVizion is a solution for many operators and a tool that can be integrated into existing platforms for others."
Diamond Review submissions are rigorously judged by third-party cable telecommunications engineering experts, including executives from operators such as Buckeye, Comcast, Charter, Cox, Mediacom, Rogers, Spectrum and Suddenlink, plus other well-known industry consultants with extensive professional experience. Criteria include unique technology, innovation, efficiency, reliability, ease of use, and contribution to profitability. The awarding of four Diamonds is based on "an excellent product with technical features and performance that provide clear and substantial benefits". The reviews and honorees will be showcased prominently throughout SCTE's Cable-Tec Virtual Experience this year.
Julie Compann, President and CEO of ZCorum responded to the news by saying, "Receiving 4 Diamonds for our TruVizion Fiber Diagnostics is a great honor, as these judges fully understand the challenges facing broadband operators, and see how our software will improve the operational efficiency and profitability of those who are deploying fiber to the home. We see this as further confirmation that we have created a tool that meets the needs of operators as they work to improve their service reliability and the quality of experience for their subscribers."
About ZCorum
ZCorum provides a suite of broadband services to cable companies, telephone companies, utilities, and municipalities, helping them increase operational efficiency and reduce costs while improving the subscriber experience. This is achieved through their comprehensive broadband deployment services, diagnostics software for DOCSIS and Fiber networks, and managed services that include device activation for data and voice, residential and commercial VoIP service, branded email, along with 24x7 support for end-users. ZCorum is headquartered in Alpharetta, GA. For more information, please visit http://www.ZCorum.com.
About Broadband Technology Report
Broadband Technology Report's editorial mission is simple: We cover the latest tools, techniques and approaches that broadband pros must know about as they face the many challenges in today's hyper-competitive environment. If it is important to cable engineers and technology pros, it's important to BTR.