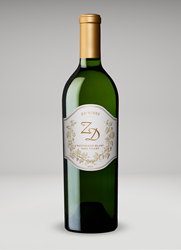 We couldn't be happier with the quality of this Napa Valley Sauvignon Blanc, and the innovative winemaking that went into crafting it.
NAPA, Calif. (PRWEB) July 17, 2020
ZD Wines, located on the Silverado Trail in Rutherford in the heart of Napa Valley, is pleased to announce they released a Sauvignon Blanc on July 1. This wine joins their award-winning lineup of Chardonnay, Pinot Noir, and Cabernet Sauvignon.
"My family has been producing wines for over 50 years, and it's been 26 years since we've introduced a new wine to our offerings," expressed Robert deLeuze, second generation of the founding family and CEO/Director of Winemaking. "We couldn't be happier with the quality of this Napa Valley Sauvignon Blanc, and the innovative winemaking that went into crafting it."
This Sauvignon Blanc was made from 100% certified organic Napa Valley fruit. An extended cold fermentation prevented malolactic fermentation and captured the bright and opulent ZD style. Leaning on their blending heritage, they utilized 75% stainless steel, 12% American Oak barrels, and 12% concrete tanks during fermentation and additional ageing.
ZD's Winemaker and Partner Brandon deLeuze, third generation of the founding family, described the 2019 Sauvignon Blanc as having bold aromas of green apple, ripe pear, and candied apricot that lead into subtle honeysuckle. Surprisingly round on the palette, flavors of nectarine and grapefruit are complemented by refreshing acidity and clean minerality that lead into a long and complex finish of orange rind that leaves you eager for more. Watch what Brandon has to say about the refreshing wine by visiting https://bit.ly/ZD19SauvBlanc.
To enjoy this summer wine yourself, visit http://www.zdwines.com to purchase before it sells out. Or, visit ZD's Rutherford tasting room to sample this and other outstanding wines. ZD Wines is open daily from 10 a.m. – 4 p.m. at 8383 Silverado Trail in Rutherford. Reservations are required for all tours and tastings. Appointments can be made by calling (800) 487-7757 or emailing experiences@zdwines.com.
About ZD Wines
ZD Wines is owned and operated by the deLeuze family, who is dedicated to producing world-class wines, sustainable winemaking, and giving back to the community. Located in the Rutherford region of the Napa Valley, the winery and hospitality center offer panoramic valley views of premium Cabernet Sauvignon vineyards and the Mayacamas mountain range to the west. The deLeuze family produces wines from their certified organic vineyards in the Rutherford and Carneros regions, as well as organic vineyards in Napa, Santa Barbara, Monterey, and Sonoma. With innovative winemaking practices, they produce wines of quality, consistency, and style. ZD Wines is currently celebrating over 50 years of winemaking and can be found online at http://www.zdwines.com and @ZDWines on Facebook, Instagram and Twitter.