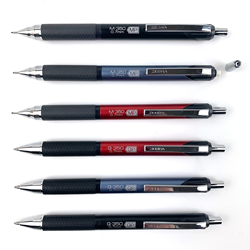 EDISON, N.J. (PRWEB) March 21, 2020
Zebra Pen Corp., a global leader in the writing instrument industry, is proud to announce the launch the G-350 Gel Retractable Pen and the M-350 Mechanical Pencil, as part of its new 350 series of premium metal writing utensils.
The G-350 Gel Retractable Pen combines a sleek, premium metal barrel with metal accents paired with Zebra Pen's innovative Rapid Dry Gel Ink Technology. The G-350 provides smooth, skip-free lines, and a comfortable writing experience that dries in less than a second. Both the 1-pack and 2-pack includes a bonus blue and red refill, allowing you to personalize your pen with the ink color of choice.
The M-350 Mechanical Pencil mirrors many of the same features and benefits of the G-350, but in the form of a mechanical pencil. It features a premium, metal barrel and a comfort grip, making it suitable for students and professionals. With a solid construction and sleek appearance, the M-350 is perfect for someone who is looking to showcase their personal style with their writing instrument. This high-quality mechanical pencil features a designer metal clip and a concealed eraser underneath a metal cap.
"We are excited to launch the 350 series in both a gel pen and a mechanical pencil in the U.S. market," said Ken Newman, Director of Marketing at Zebra Pen Corporation. "This new duo offers a premium writing experience and a stylish design at an affordable price point."
The G-350 and the M-350 are both available in three fashion barrel colors, including: Space Black, Cobalt Blue, and Crimson Red.
The G-350 and M-350 are available exclusively online. Get yours now by visiting zebrapen.com.
About Zebra Pen Corporation
Zebra Pen Corporation was founded in New York in August 1982 as an independent corporation wholly owned by Zebra Co., Ltd., of Tokyo, Japan. A New Jersey-based writing instrument manufacturer, Zebra Pen Corporation's mission is to distribute products that are of the highest quality, providing value to customers and meeting their overall writing needs with a wide variety of writing instruments. Zebra Pen Corporation offers a full line of writing instruments, including ballpoint pens, gel pens, rollerball pens, mechanical pencils, highlighters, and brush pens. Today, with over 15 years of excellence behind them, Zebra Pen Corporation is leading the way with a wide range of quality writing products including the Steel®, Sarasa®, Z-Grip®, Zensations® and Mildliner™ brands. For more information, visit zebrapen.com.