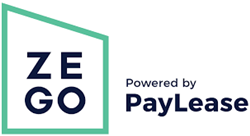 "Property managers have always been the cornerstone of a successful property, but this year has truly brought to light the fact that without a strong property manager, a property simply cannot thrive."
SAN DIEGO (PRWEB) September 30, 2020
Today, Zego (Powered by PayLease), the property technology company that powers better resident engagement and efficiency for multifamily and HOA communities, is sharing the stories of the top five candidates for the inaugural Property Manager Hero Award sponsored by Zego. The new quarterly award showcases outstanding property managers who have gone above and beyond for their properties. In the wake of the global pandemic, properties have innovated ways to enact social distancing measures with residents, and property managers are often the key to these measures' success. Zego's support of property managers is a pillar of the company's foundation; the pandemic accelerated the launch of this award, and the company plans to continue the award for years to come.
"Property managers have always been the cornerstone of a successful property, but this year has truly brought to light the fact that without a strong property manager, a property simply cannot thrive," said Dirk Wakeham, CEO of Zego. "It is our honor to celebrate them through our new Property Manager Hero award and recognize the tremendous amount of work they've done for their properties, both this year and every year before. Our goal continues to be in lockstep with property managers, enabling them for resident success."
The five finalists for the award were nominated by their company's executives and their peers. Zego, which currently serves over 12 million residential units, is sharing what each property manager says made the difference for them this year and their secrets to success:
Rose Mary Guzman of Mirabella Apartments in Houston, Texas
Be proactive: Proactively engage your residents on issues that matter to them, and be an active listener. Rose Mary proactively builds positive relationships with residents and actively listens to understand their situation while working with them to resolve it. This approach led to clear results. Rose Mary reduced delinquency from 15 percent to 6 percent, even after the initial impact of COVID-19. She also reduced turnover from 57 percent to 27 percent - now 19 percent as of the beginning of September.
Cindy Cason at Keystone Townhomes in Tomball, Texas
Find the right people: Find the right people for your property from the very beginning to mitigate issues down the road. Cindy does extensive work to appropriately screen and fact check applicants. She recommends not only conducting the company-required checks but also taking the extra step by doing social media searches and checking references to get the right residents signed and in the door from day one. Beyond this, Cindy gets to know residents on a more personal level, such as "the new-mom who is drowning in hospital bills, or the young couple who just lost their first job."
Pam Davis at Basta Solutions in Palm Harbor, Florida
Lean on your team: From execution recommendations with the onsite team to portfolio-wide best practices at the corporate level, don't forget to utilize the collective knowledge of your coworkers. Pam is a first-time property manager who started at her property in January. COVID-19 compounded the already dramatic learning curve of property management, but leaning on her team helped her develop into a stellar manager.
Geraldine Oostdyk at Autumn Ridge Apartments in Shoreline, Washington
Go the extra mile: Going above and beyond for residents can take many forms, but doing so in your own personalized way can lead to strong, lasting tenant relationships. Geraldine's 30+ years of experience helped her with projects like compiling a resource for residents on local non-profit organizations, helping seniors shop for groceries, and even creating a 200-page activity book for kids in the property once schools closed. Her compassion for her residents makes her truly stand out.
Marco Falcon at The Forum at Sam Houston in Huntsville, Texas
Know the nuances of your community: Understand the unique challenges of your residents. As the manager of a student housing property, Marco's work came with its own set of challenges this year, but he went the extra mile by making students feel safe in their homes. Every unit was sanitized and sealed before move-in day, and all move-in proceedings were paperless and conducted outdoors. He also attributes his property's success to excellent customer service in the office and the maintenance team's prompt responses to work orders.
Zego's resident engagement platform unifies critical resident touch-points—from payments and utilities to communication and smart devices—into one app. To learn more about Zego's outstanding Property Manager Heroes, visit: https://www.gozego.com/articles/inaugural-property-manager-hero-nominations-and-award-complete-success
About Zego
Zego (Powered by PayLease) is a property technology company that frees management companies and community associations to go above and beyond for their residents. Zego's mobile-first engagement platform for the residential real estate industry unifies the most critical resident touch-points into one app. From payments and utilities, to communications and smart devices, everything is seamlessly integrated into your back-end system. Zego delivers portfolio-wide efficiency, higher NOI, and more engaged residents. Learn more about how Zego drives community engagement and efficiency at gozego.com.