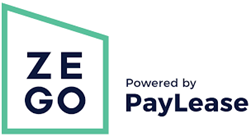 "Our growth over the past year has made it clear that we wanted someone at the executive level to take care of our greatest asset: our people."
SAN DIEGO (PRWEB) September 16, 2020
Today, Zego (Powered by Paylease), the property technology company that powers better resident engagement & efficiency for multifamily and HOA communities, is announcing the appointment of Katie Burgoon as Chief Human Resources Officer. The first in this role, Katie brings over 16 years of experience in HR, including as Head of People for Cameo and Citadel Securities and five years as EVP, Head of Global Human Resources for Trading Technologies.
"Our growth over the past year has made it clear that we wanted someone at the executive level to take care of our greatest asset: our people," said Dirk Wakeham, CEO of Zego. "Katie is the perfect fit for our first Chief Human Resources Officer; her passion for nurturing and invigorating culture and employee development through innovation, high energy and seamless execution are the standout qualities that have allowed her to hit the ground running and I am excited to see the impact of her leadership across our organization."
In her role, Burgoon is responsible for oversight of talent management, succession planning, organizational & performance management, diversity & inclusion, and learning & development. Zego has continued to grow amidst a year that has been challenging for the multifamily industry in the face of COVID-19. The company's mobile-first engagement platform unifies the most critical resident touch-points into one app, easing burdens of both management and residents.
"Zego's leadership team is superb in their depth of expertise and functional knowledge," says Burgoon. "I am excited to partner with a world-class Talent Team and our Zegonauts to extend our thriving culture and implement programs for cultural evolution and inclusivity. To be part of the Vista Equity Partners portfolio family and leverage other Talent thought leaders is a tremendous opportunity."
Burgoon received her undergraduate degree from Columbia College Chicago and earned a master's degree in Sociology from Loyola University of Chicago. She is a proud recipient of Crain's Notable LGBT Executives 2018; Chicago Business Journals Women of Influence 2016; and Chicago Woman Magazine's Women to Watch. Katie is an advocate for women and minorities in STEM fields and finds her professional motivation in inspiring the next generation of thought leaders in underrepresented populations.
For more information on Zego, visit: https://www.gozego.com/.
About Zego
Zego (Powered by PayLease) is a property technology company that frees management companies and community associations to go above and beyond for their residents. Zego's mobile-first engagement platform for the residential real estate industry unifies the most critical resident touch-points into one app. From payments and utilities, to communications and smart devices, everything is seamlessly integrated into your back-end system. Zego delivers portfolio-wide efficiency, higher NOI, and more engaged residents. Learn more about how Zego drives community engagement and efficiency at gozego.com.