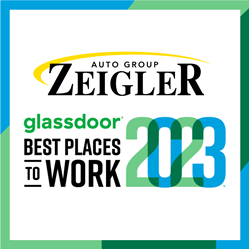 Being recognized by Glassdoor as one of the Best Places to Work for 2023 alongside companies larger than us, truly demonstrates how committed we are to our team members.
KALAMAZOO, Mich. (PRWEB) January 19, 2023
Zeigler Automotive Group is among Glassdoor's 100 Best Places to Work in the U.S. (Large Companies) for 2023, coming in at No. 37; and number one among auto dealer groups and automotive companies overall. Zeigler was in great company, listed within the top 40 alongside major international organizations like Google, Microsoft, Adobe, and Lego; and even ranking higher than many well-known, popular household names such as Southwest, Netflix, Capital One, Cisco, Intuit, Asana, Salesforce, HP, Spotify, Electronic Arts, and many others.
"Being recognized by Glassdoor as one of the Best Places to Work for 2023 alongside companies larger than us, truly demonstrates how committed we are to our team members. This means investing in innovative processes and training that equips our employees with the skills needed to exceed customer expectations without sacrificing work-life balance," said Aaron Zeigler, president and CEO of Zeigler Auto Group.
Zeigler Auto Group having ranked higher than global organizations with larger employee-engagement budgets shows the organization's level of commitment to ensuring its employees have a great experience as part of its award-winning team.
Winners for the 100 Best Places to Work - U.S. large companies are determined using Glassdoor's proprietary algorithm, created by Glassdoor's Economic Research team, which requires a minimum of 1,000 employees and at least 75 eligible ratings across nine workplaces attributes during its 12-month eligibility period from October 19, 2021 and October 17, 2022.
"The past year brought extreme highs and lows for job seekers and employees, but despite an increasingly uncertain job market, Glassdoor data shows there are still companies hyper-focused on creating outstanding employee experiences," said Christian Sutherland-Wong, Glassdoor CEO.
These nine workplace attributes include: overall company rating, career opportunities, compensation and benefits, culture and values, diversity and inclusion, senior management, work-life balance, "recommend to a friend" rating, and six-month business outlook. For all of these categories employers must have a minimum of a 3.5 overall company rating and at least a 2.5 across each workplace factor.
The 2023 Best Places to Work award is part of the Employees' Choice Awards, which feature six categories across five countries. These include 100 Best Places to Work - U.S. large companies, 50 Best Places to Work - U.S. small and medium companies, 25 Best Places to Work - Canada, 50 Best Places to Work - UK, and 25 Best Places to Work - Germany.
For reporting simplicity, employer and workplace factor ratings displayed on Glassdoor and for the Employees' Choice Awards are limited to one decimal place, though actual calculations extend beyond the thousandth place in order to determine final rank order.
"Recognition at the highest level from Glassdoor is an honor for our team at Zeigler Auto Group. This award is a milestone for us and validates our commitment to each other for truly living out our values as an organization," said Mike Van Ryn, director of talent development at Zeigler.
"We help each other grow, develop and excel in our roles.Team members and customers can experience our world-class culture. We are thankful to be among these truly amazing organizations!"
Besides this coveted accolade, Zeigler has also been recognized on a separate list by the Glassdoor Economic Research Center which placed the organization among the Top 10 U.S. Companies for Work-Life Balance. On this list Zeigler landed at No. 6 and was the only automotive company included.
The Top 10 US Companies for Work-Life Balance list was compiled from Work-Life Balance ratings on Glassdoor from US-based full and part-time employees between January 1, 2022 and September 28, 2022. The ranking includes companies with more than 1,000 employees and with a minimum of 50 Work-Life Balance ratings during the time period. The average Work-Life Balance rating extends beyond the hundredths place to determine this ranking.
Also in 2021, the Glassdoors Economic Research listed the dealer group among its Top 20 Highest-Rated Companies for Work-Life Balance During the COVID-19 Pandemic, showing its unwavering commitment to its employee programs regardless of the economic landscape. The organization came in at number 14 nationwide, and also held the top spot for new and used dealer auto groups. The study gathered Glassdoor.com reviews from current and former U.S.-based full-time employees between March 15, 2020, and September 28, 2021.
Additionally, Zeigler Auto Group consistently earns accolades from the Best and Brightest Companies to Work For program, bringing home four consecutive national awards from 2019 through 2022. The Kalamazoo-based company also wins local awards under this program including 9 consecutive wins for the Best and Brightest Companies to Work For Chicago; and 16 total wins for the Best and Brightest Companies to Work For West Michigan. 2022 also marked the first year Zeigler Auto Group won Milwaukee's Best and Brightest Companies to Work For award.
Zeigler also produces the Driving Vision Podcast hosted by COO Sam D'Arc which keeps employees up-to-date with the dealer group's latest news. Besides Zeigler updates, the podcast also features interviews with the likes of Bill Nye the Science Guy, and regularly livestreams from events hosted by Zeigler Auto including the Drive for Life Foundation Gala, the Zeigler Kalamazoo Marathon, and more.
Zeigler Auto Group is always looking for top talent at all 35 of their locations across the Midwest including Wisconsin, Illinois, Indiana, and Michigan. To join our award-winning work-life balance team, please visit zeigler.com/zeigler-automotive-careers.htm.
About Glassdoor
Glassdoor is revolutionizing how people everywhere find jobs and companies they love by providing deeper workplace transparency. Professionals turn to Glassdoor to research ratings, reviews, salaries and more at millions of employers, and to Fishbowl by Glassdoor to engage in candid workplace conversations. Companies use Glassdoor to post jobs and attract talent through employer branding and employee insights products. Glassdoor is a subsidiary of Recruit Holdings, a leading global technology company, and a part of its fast-growing HR Technology business unit.
About Zeigler Auto Group
Zeigler Automotive Group is one of the largest privately-owned dealer groups in the U.S. with 78 franchises across 35 locations in Wisconsin, Illinois, Indiana, and Michigan. Vehicle brands represented include all of the domestic and the majority of the imported manufacturers.
Besides its extensive automotive portfolio, the organization owns and operates Zeigler Motorsports, an 85,000-square-foot motorsports dealership and action park, offering 19 different powersports brands, plus its own onsite restaurant: Trak Houz Bar & Grill. Additionally, Zeigler Motorsports houses the Elevate Leadership & Team Building Academy, an executive training company.
The Kalamazoo-based dealer group also owns and operates Zeigler Pre-Owned of Chicago, three Byrider franchises, three finance companies, several insurance firms, and a leasing firm.
Founded in 1975, the organization employs over 2,300 people, ranking among the top 1% of automotive dealers in the nation with estimated annual sales of $2.2 billion for 2022. The family-owned and operated company is well known for its commitment to both customer service and employee satisfaction. Zeigler is regularly recognized as one of the Best and Brightest Companies to Work for in the Nation, also earning similar accolades in Wisconsin, Chicago, and Michigan.