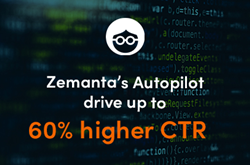 "Better, faster, stronger. From it's very foundation, our DSP is built to deliver engagement," said Todd Sawicki, CEO at Zemanta. "Our platform has the most advanced AI and algorithms in its field. We refined our technology to ensure all automated optimization sits under the new Autopilot."
NEW YORK (PRWEB) November 23, 2020
Zemanta, the industry's leading programmatic native advertising DSP, today announced the next generation of Autopilot, the platform's automation engine. Autopilot optimizes for the most optimal price possible to reach specific goals, while hitting marketer's daily budgets. Early testing results of the new Autopilot include 168x faster discovery phase, up to 2x lower average Cost-Per-Click (CPC) and up to 60% higher Click-Through Rate (CTR).
Autopilot is the core automation engine that powers Zemanta campaigns. Zemanta developed a sophisticated AI based mechanism that quickly analyzes hundreds of campaign parameters faster than ever before. The next generation Autopilot adjusts CPCs in real-time, to answer market fluctuations and find the optimal price for campaigns in less than an hour's time.
"Better, faster, stronger. From it's very foundation, our DSP is built to deliver engagement," said Todd Sawicki, CEO at Zemanta. "Alongside our platform's primary bidding model being CPC (Cost Per Click), our platform has the most advanced AI and algorithms in its field. We refined our technology to ensure all automated optimization sits under the new Autopilot. Whether your goal is to drive conversions, maximize engagement or drive traffic to your site, Autopilot is here to help you get there. With the Zemanta Autopilot - an entire campaign can be automated."
Campaign goal optimization, budget optimization and the Autopilot bidding strategy are now all powered by the new technology, giving marketers more transparency and efficiency, with better controls over campaign management. Additionally, marketers have the option to automate buying, use combined settings or manage the campaigns manually.
"Zemanta has proven to be the leading DSP for programmatic native advertising. At AdRizer, we specialize in revenue attribution. By joining forces, our partnership with Zemanta allows us to maximize scale across the board and automate our buying with their API and automated rules. We manage thousands of campaigns daily, and Zemanta makes it easier to save a significant amount of time while increasing campaign performance," said Ryan Russo, Senior Account Manager at AdRizer.
"Outbrain acquired Zemanta three years ago after a rigorous evaluation of platforms in the ecosystem, with Zemanta not only the first but also the most advanced dedicated native DSP by some distance," said David Kostman, co-CEO of Outbrain. "Three years on, Zemanta's impact on programmatic native advertising and business results have comfortably exceeded our original forecasts. While industry rivals saw declines in their revenue, especially in the most recent quarter and despite incredibly difficult headwinds from COVID-19, Zemanta continued to grow - doubling year over year. We're excited for the continued success and growth coming from Zemanta, including the debut of the next generation Autopilot."
To get started with Zemanta, schedule a demo here. For more information about the next generation of Autopilot, check out the help center article.