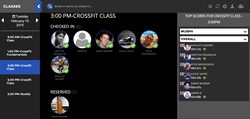 "Many companies talk of inclusion, but Zen Planner has put their money where their mouth is. Developing a gender-free athlete experience helps remove barriers that can make transgender and gender non-conforming athletes feel unwelcome in fitness." - Will Lanier, Executive Director The OUT Foundation
DENVER (PRWEB) February 21, 2019
Zen Planner, a comprehensive athlete management suite for affiliate gyms, martial arts schools, yoga studios and boutique gyms has released two new product enhancements related to a broader effort to support the transgender inclusion movement.
The first enhancement is a Not Specified gender option for building out athlete profiles within Zen Planner. This particular product enhancement was championed by Zen Planner employees during the company's "Lab Days", a period each year where employees get to vote on which software features to build. "I view Lab Days as one of the best ways to have a voice in the direction of our products. This particular feature was one that really resonated with me and a lot of people around the office," says Gabe Anderson, Zen Planner Video Marketing Manager.
A second enhancement branching from the Not Specified gender option is the ability to display a gender-neutral leaderboard. "We knew building a gender-neutral leaderboard, while not as big of an undertaking as some of our other development initiatives, would be highly valuable for many business owners and athletes using our software," says Nelle Zukowski, Product Manager.
In addition to product enhancements, Zen Planner has put together a plan to provide community outreach, promotion and advocacy for the transgender-inclusion movement. The first step in this plan was to build a relationship with OUTWOD, a program of "The OUT Foundation" an LGBTQ+ 501(c)3 non-profit that focuses on removing the barriers LGBTQ+ athletes face in health and fitness. As part of the relationship, Zen Planner will sponsor the OPEN+LGBTQ, a 5-week test of physical fitness through CrossFit® that helps support The OUT Foundation and their mission.
Zen Planner's recent enhancements and initiatives to expand their community outreach aligns perfectly with the mission of OUTWOD. "Many companies talk of inclusion, but Zen Planner has put their money where their mouth is. Developing a gender-free athlete experience helps remove barriers that can make transgender and gender non-conforming athletes feel unwelcome in fitness. That's why we're proud to stand with Zen Planner as they launch their new 'Not Specified Gender' option." - Will Lanier, Executive Director of The OUT Foundation.
The movement is gaining steam across the country with CrossFit® founder Greg Glassman helping to the pave the way with initiatives to make the CrossFit Games more inclusive for all athletes and Zen Planner is excited to be part of this positive new direction.
ABOUT ZEN PLANNER
Zen Planner makes affiliate gyms wildly successful, to transform the hearts, minds and bodies of their communities. With athlete management software and Integrated Websites, as well as advanced marketing, retention and WOD tracking, you have everything necessary to spend less time behind your desk and more time changing lives.