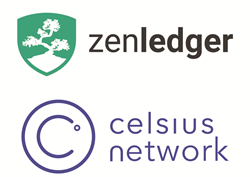 Accounting and taxes in crypto are overly complicated. Celsius offers a great service to grow your crypto holdings and an easy user experience. ZenLedger saves you time and helps you keep more cash in your investment portfolio. We're happy to help Celsius investors to keep growing their investments
SEATTLE (PRWEB) January 27, 2020
ZenLedger.io, a cryptocurrency tax analysis and blockchain analytics startup, announced a strategic partnership with Celsius Network, a leading lending platform with over $5B in crypto loan origination and $450M worth of managed digital assets.
ZenLedger, a Seattle based startup with 15 team members, has grown revenue and customers by over 500% year over year. The fintech startup has helped thousands of cryptocurrency investors and accountants with tax filings and financial analysis, by saving them dozens of hours and thousands of dollars. ZenLedger provides 24 hour customer support and makes it easy for you to get help by phone, live chat or email.
Celsius Network is a crypto wallet that provides cash loans and interest-earning to its over 70,000 users. With a commitment to doing what is in the best interest of its community, Celsius partnered with ZenLedger to provide the easiest and most thorough tax assistance to its users.
This new partnership will allow both companies to provide even better service to their clients. Now cryptocurrency investors filing taxes with ZenLedger have an easy and seamless access to cryptocurrency backed loans directly from their ZenLedger account. This will allow them to save even more time and avoid selling crypto when they need cash to pay their taxes or for any other purposes. The clients of Celsius Network now have direct access to ZenLedger from the Celsius platform, which will help them during the tax season 2020 that starts today.
Alex Mashinsky, CEO of Celsius Network: "Partnering with ZenLedger makes Celsius Network better and our users receive vital assistance and tools for their 2019 taxes. We are thrilled to be able to add this to the broadest suite of services app for lending, and look forward to assisting ZenLedger's clients earn more interest and borrow cash against their assets."
Pat Larsen, CEO of ZenLedger.io: "Accounting and taxes in crypto are overly complicated. Celsius offers a great service to grow your crypto holdings and an easy user experience. ZenLedger saves you time and helps you keep more cash in your investment portfolio. We're happy to help Celsius investors to keep growing their investments with safety and security."
ZenLedger.io has recently announced a strategic seed raise of $3.4M. Its mission is to make crypto taxes easy for cryptocurrency investors and their accountants, by saving them time, money and energy. ZenLedger helps thousands of investors, miners, and traders to avoid overpaying on taxes and stay compliant. The software takes in transaction information from hundreds of exchanges, wallets, and blockchains to produce a full profit & loss, tax loss harvesting analysis, Schedule D, 8949, Fincen 114 FBAR, FATCA, and a full audit package.
Link to ZenLedger.io PRESS KIT
About ZenLedger.io
Built by industry veterans in technology, finance, and accounting, ZenLedger.io quickly imports transactions, calculates gains and income, and prepares your tax returns for you. Using ZenLedger, cryptocurrency investors and CPAs can manage their portfolio, generate profit loss statements and tax forms. We offer automated tools to help investors and CPAs reduce the uncertainty, frustration, and manual grunt work of crypto tax accounting. Learn more at https://zenledger.io/
About Celsius Network
Celsius Network addresses the financial needs of today's consumers worldwide through a high interest income and low cost loans accessible via a mobile app. Built on the belief that financial services should only do what is in the best interests of the depositor community, Celsius is a Blockchain based marketplace platform where membership provides access to curated financial services that are not available through traditional financial institutions. For additional information please visit http://www.celsius.network
ZenLedger Media Contact:
Irina Barber
Director of Marketing
irina@zenledger.io
________________________
Celsius Network Media Contact
Kristen Ryan
Director of Marketing
kristen@celsius.network