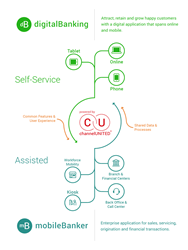 both digital banking and enterprise solution on an efficient and synergistic single platform
CHARLOTTE, N.C. (PRWEB) April 02, 2019
Zenmonics, an IDC Fintech 100 company and global provider of an omnichannel platform that supports all channels in a financial institution, today announced the latest update of its channelUNITED® platform and continued recognition as a leader of omnichannel retail banking solutions.
The recently released IDC MarketScape: North America Omni-Engagement Retail Banking Solutions 2019 Vendor Assessment, Doc # US43788619, February 2019, placed Zenmonics in the Leaders Category based on their strength of capabilities and strategy execution. The report highlights that channelUNITED spans "both digital banking and enterprise solution on an efficient and synergistic single platform" – allowing financial institutions to "leverage out-of-the-box offerings, apps prebuilt on the channelUNITED platform, and also the ability to create customized solutions that meet the needs of institutions through open APIs and microservices."
"Financial institutions continue to challenge the Fintech market to provide platform driven solutions that enable true digital transformation," said Riaz Syed, chief executive officer and founder of Zenmonics. "As we continue to work with those leading institutions, we believe the overall market will shift towards open banking platforms that eliminate friction for customers and bankers alike."
channelUNITED is the only market-available solution to enable digital transformation across all engagement points including consumer online and mobile, banker sales and servicing, teller, account origination and kiosk. The latest release expands capabilities across all interaction points including the only ABA-endorsed account origination solution.
"With the growth of our customer base and expanded strategic relationships in the market, we continue to see increased opportunities to innovate our platform in partnership with financial institutions," states Jeff Jones, chief operating officer of Zenmonics. "This partnership drives our continued product investment in frequent releases that keep pace with market demand."
About IDC MarketScape: IDC MarketScape vendor assessment model is designed to provide an overview of the competitive fitness of ICT (information and communications technology) suppliers in a given market. The research methodology utilizes a rigorous scoring methodology based on both qualitative and quantitative criteria that results in a single graphical illustration of each vendor's position within a given market. IDC MarketScape provides a clear framework in which the product and service offerings, capabilities and strategies, and current and future market success factors of IT and telecommunications vendors can be meaningfully compared. The framework also provides technology buyers with a 360-degree assessment of the strengths and weaknesses of current and prospective vendors.
About Zenmonics
Charlotte, N.C.-based Zenmonics is a global provider of omnichannel software that supports all channels in a financial institution on a single platform. Zenmonics' channelUNITED® platform is the leading open standard, omnichannel platform that can be deployed with any core system and spans all self-service and assisted channels to enable complete digital transformation. Zenmonics is committed to transforming the financial industry to ensure financial institutions stay continuously engaged with their customers. To learn more, visit http://www.zenmonics.com.