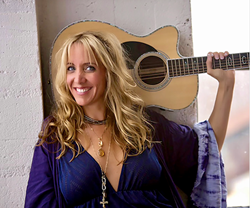 The wild and pristine beauty of Southern Utah is an incomparable backdrop for musical performances
DUCK CREEK VILLAGE, Utah (PRWEB) May 25, 2021
Southern Utah 21st Century luxury adventure cabin — Zennest — is proud to present its first virtual concert featuring Alexis Vear. The concert will be live-streamed on Sunday June 13th at 12pm (MST) on EarthCam and Facebook Live.
The Georgia-based musician, songwriter, and fine artist has captivated audiences around the world with her ethereal voice and acoustic guitar. Her music is a perfect accompaniment to Zennest's natural surroundings of forests, red rock canyons, and blue skies.
"My setlist is always inspired by the environment in which I will perform," says Vear. "My hope is to spread peace, hope, and love however I can in a way that is tasteful to the purpose of the event."
The concert is the first in a series of music, meditation, and mindfulness events that capture the beauty of the area and stream it to viewers at home. These events are designed to promote and share conscious living that is in profound appreciation and connection with nature.
"The wild and pristine beauty of Southern Utah is an incomparable backdrop for musical performances," says Zennest creator, Les Ottolenghi. "We are excited to share this experience with a global community in the spirit of creativity, connection, and conservation."
"I want everyone to step outside on a clear night and look at a starlit sky understanding we are all just particles of the whole planet of Earth," says Vear. "Collectively as a human race we can thrive. We can recover our oceans, atmosphere, and our respect for global humanity and the life of all creatures. We just have to work together."
For more information and daily content, viewers can follow Zennest on Instagram, Twitter, and Facebook.
About Alexis Vear
Alexis Vear is a soulful Singer/Songwriter/Fine artist who is inspired by the images she sees in her mind and in the realities of everyday life. From the time Alexis can remember, images have passed through her. Alexis has always felt a deep calling to share these images in different ways.
As a prolific singer/songwriter, Alexis released her first album, "Never Give Up," in 2004 which received national airplay on NPR as well as international airplay. She released her second album, "Let It Go," in 2008. This April, she released a new single called "My Father." She is very excited to be back in the studio recording after a long hiatus.
Locally Alexis has been a finalist in several music contests including The Rockin Taco Series as well as in the Red Clay Theater's Shootout. She also has recently received regional airplay on several stations. Learn more here: https://alexisvear.com/about/
About Zennest
The adventure luxury cabin was purchased by Fortune 200 CIO Les Ottolenghi in early 2020, who had the vision of fully renovating it with the addition of 21st-Century smart cabin amenities and innovation. It began as a passion project at the beginning of the pandemic lockdown, fully embracing the new and mindful remote live-work-play lifestyle that can happen off-the-grid — and so it became Zennest. Perched 8,900 feet above sea level surveying the majesty of Southern Utah, one of Zennest's most stunning features is its westward-facing views that overlook sprawling topography, including Dixie and Zion National Parks.
EarthCam is the leading network of live streaming webcams for tourism and entertainment.
Follow Zennest on Instagram