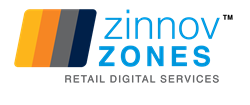 Digitization continues to drive the future of Retail and Zensar is at the forefront of digital innovation.
PRINCETON, N.J. (PRWEB) November 15, 2018
Zensar, a leading digital solutions and technology services company that specializes in partnering with global organizations across industries on their digital transformation journey, announced today it has been ranked as a "Leader" in the Zinnov Zones for Digital Services in Retail – 2018 report. Zinnov conducted an analysis of 14 service providers in this space, evaluating them in the areas of digital prowess and scalability across the categories of Overall, Marketing and Sales, Store Operations, Supply Chain Management, Merchandising, In Store Experience and Online Commerce.
According to Zinnov, "Retailers worldwide will spend over $102 Bn on digital in 2018. Retail digital spending is likely to increase at a CAGR of ~21%, touching $220Bn by 2022."
Zinnov defines digital investments in retail as spending on digital infrastructure, engineering of digital applications and products, investment in modern technologies such as IoT, AI/ML, Robotics, and digital managed services, to achieve better customer experience, derive higher operational efficiencies and create new digital products.
Sandeep Kishore, Chief Executive Officer and Managing Director, Zensar stated "Digitization continues to drive the future of Retail and Zensar is at the forefront of digital innovation. Digital is the fastest growing segment within Zensar with digital revenues comprising about 44% of our total business in Q2. We continue to invest significantly in digital services, acquiring three companies in the past two years, most recently Indigo Slate, a Seattle based customer experience agency. Digital Retail Services is a core growth market for us and we are delighted to be recognized by Zinnov once again in this space."
Praveen Bhadada, Partner & Practice Head, Digital Transformation, Zinnov stated "Zensar has strong focus on Digital in the retail segment and continues to maintain a high growth trajectory. The company has highly experienced digital workforce to deliver diverse range of solutions for its retail clientele. We also observed that Zensar has developed a robust suite of digital intellectual property (accelerators, frameworks, etc.) allowing it to serve the diverse requirements of retail clients."
Durai Velan, Executive Vice President and Head, Retail and Consumer Services, Zensar added "Zensar is uniquely positioned as the leading full service digital partner for some of the most recognizable retail brands in the world. Our rating as "Leader" in the Zinnov Zones Digital Services in Retail report is reflective of the confidence our clients have in us to help them plan, design and implement exceptional customer experiences as we partner along their digital transformation journeys."
Zensar currently works with leading global retailers, providing full range of services across digital supply chain, digital commerce, customer experience and digital marketing.
About Zensar (http://www.zensar.com)
Zensar is a leading digital solutions and technology services company that specializes in partnering with global organizations across industries on their Digital Transformation journey. A technology partner of choice, backed by a strong track record of innovation; credible investment in Digital solutions; and unwavering commitment to client success, Zensar' s comprehensive range of digital and technology services and solutions enables its clients achieve new thresholds of business performance. Zensar, with its experience in delivering excellence and superior client satisfaction through myriad technology solutions, is uniquely positioned to help its clients surpass challenges they face running their existing business most efficiently, helping in their legacy transformation, and planning for business expansion and growth through innovative and digital ways.
Follow Zensar via:
Zensar Blog: http://www.zensar.com/blogs
Twitter: https://twitter.com/Zensar
LinkedIn: https://www.linkedin.com/company/zensar-technologies
Facebook: https://www.facebook.com/Zensar
About RPG Enterprises (http://www.rpggroup.com)
RPG Enterprises, established in 1979, is one of India's fastest growing business groups with a turnover of Rs 23000 Cr. The group has diverse business interests in the areas of Infrastructure, Tyres, Pharma, IT and Specialty as well as in emerging innovation led technology businesses.
PR Contacts (Global Headquarters - India):
Aradhana Prabhu
Public Relations-Global
Zensar Technologies
+91-9765999749
aradhana.prabhu@zensar.com
PR Contact – (US)
Julie Machnik
Director of Marketing, US
Zensar Technologies
508 -621 -4753
J.machnik@@zensar.com
Safe Harbor
Certain statements in this release concerning our future growth prospects are forward-looking statements which involve a number of risks and uncertainties that could cause actual results to differ materially from those in such forward-looking statements. The risks and uncertainties relating to these statements include, but are not limited to, risks and uncertainties regarding fluctuations in earnings, our ability to manage growth, intense competition in IT services including those factors which may affect our cost advantage, wage increases in India, our ability to attract and retain highly skilled professionals, time and cost overruns on fixed price, fixed-time frame contracts, client concentration, restrictions on immigration, our ability to manage our international operations, reduced demand for technology in our key focus areas, disruptions in telecommunication networks, our ability to successfully complete and integrate potential acquisitions, liability for damages on our service contracts, withdrawal of governmental fiscal incentives, political instability, legal restrictions on raising capital or acquiring companies outside India, and unauthorized use of our intellectual property and general economic conditions affecting our industry. The Company does not undertake to update any forward-looking statement that may be made from time to time by or on behalf of the Company.