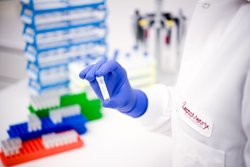 BUFFALO, N.Y. (PRWEB) December 11, 2018
ZeptoMetrix™ Corporation (ZMC) announced today the release of two significant molecular quality controls to its expanding product inventory.
Dedicated to providing the molecular diagnostic market with the most current, reliable and precise non-infectious QC materials, ZeptoMetrix has utilized its patented NATtrol™ inactivation treatment to provide the following Pneumonia Verification Panels for molecular quality control:
NATtrol Pneumonia Panel-Atypical Bacteria & Viruses (Product Number - NATPPA-BIO)
NATtrol Pneumonia Panel-Quantifiable Bacteria (Product Number - NATPPQ-BIO)
"We are pleased to provide the market with two new NATtrol™ inactivated Pneumonia QC Panels", explains Shawn Smith, President and CEO of ZeptoMetrix. "As the molecular diagnostic market continues to grow at a rapid rate, the constant need for current, reliable, precise, and easy to use non-infectious QC materials is essential. The introduction of NATPPA-BIO and NATPPQ-BIO showcases our continued commitment to fully support and provide assurances that patients and providers can rely upon".
About ZeptoMetrix™
ZeptoMetrix Corporation (ZMC) is a renowned industry leader in the design, development, and delivery of innovative, quality solutions to the Infectious Disease Diagnostics Market. Our expertise and abilities in Molecular Diagnostics, including External Quality Controls, Verification Panels, Proficiency Panels, Customized and OEM Products/Services has set the industry standard for performance and reliability and made ZeptoMetrix the preferred choice for independent 3rd party QC materials.
Founded in 1999, ZeptoMetrix is headquartered in Buffalo, NY with additional facilities in Franklin, Massachusetts.
About NATtrol™
Globally, millions of people are tested for infectious diseases annually. The implications of reporting either a false positive or a false negative can be devastating to the patient. Accurate and sensitive diagnostics are necessary to confirm that laboratories are providing patients with proper testing results. Utilizing ZeptoMetrix NATtrol QC Materials on a consistent basis helps to monitor testing performance to maximize additional confidence in a patient's reported results.
ZeptoMetrix NATtrol Molecular Diagnostic Products are an essential part of today's fast growing market and are designed provide the safest, most accurate and cost effective support for critical microorganism detection. The ZeptoMetrix NATtrol treatment blocks surface protein receptors on highly purified microorganisms rendering them non-infectious while allowing the internal nucleic acids to remain intact for molecular detection. Mimicking a true, infected clinical specimen, these ready-to-use non-infectious products are safe to use and refrigerator stable while controlling for all steps in molecular testing including: centrifugation, extraction, amplification and nucleic acid detection.
Together, the routine and repetitive use of NATtrol™ External Run Controls and Range Verification Panels enables laboratories to verify test performance, track and monitor daily test variation, lot-to-lot test kit performance and individual operator performance to provide assistance identifying trends in laboratory results.
For Sales and/or information regarding ZeptoMetrix, ZeptoMetrix Molecular Quality Controls & Panels, and Development/Custom Services, please contact ZeptoMetrix Customer Relations directly.
Contact:
ZeptoMetrix Corporation, Customer Relations
878 Main Street
Buffalo, NY 14202
716-882-0920
custserv@zeptometrix.com
http://www.zeptometrix.com
Media:
Michael Hershfield, Vice President, Sales & Marketing
508-553-5852
mhershfield@zeptometrix.com