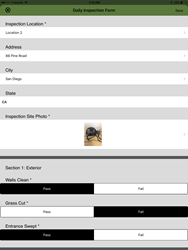 "We believe that professionals who work with data on a regular basis are not only looking for a better, more efficient way to work, but, ultimately, want to make better business decisions." - Sze Wong, CEO
Herndon, Virginia (PRWEB) February 15, 2017
Mobile workflow solutions company Zerion is excited to announce the launch of Data Collector, the latest addition to the Zerion suite.
Data Collector is designed to allow business workflows to be complete when used with Zerion Workflow Automation and Zerion Reports by allowing Field teams to increase the quality of their data, developers and IT teams to accelerate integrations, and executive teams to make informed decisions based upon data.
"We believe that professionals who work with data on a regular basis are looking for a better, more efficient way to work, and, ultimately, want to make better business decisions," explained Sze Wong, CEO of Zerion, while describing the new platform. "Data Collector is designed to make this possible while empowering users," he continued.
Data Collector allows users to build their own enterprise-grade forms to fulfill business needs in a simple 2-step process that eliminates paper- or Excel-based data collection. Key features of Data Collector include:

Skip Logic, which allows questions to be answered automatically based upon previous selections.
Calculation tools which can be used directly through the platform to score inspection results or to calculate live quotes to present to clients on site.
Connection free options that allow users to work in the field with or without a Wi-Fi connection.
Metadata captured with each record to track time, location, date, user information and more.
Unmatched security thanks to a jail-break-safe native client.
In short, Data Collector eliminates the need for paper data collection, cuts down on duplicate work efforts and prevents lost work. It allows for more efficiency than ever before. With Data Collector, users can build a fully-functional mobile data collection application for field teams in a matter of hours. Potential practical applications of this include:
Field Service Inspections
Instead of working on a clipboard, field teams can collect data directly on mobile devices to save money, time and energy. These forms can then be scored automatically for accurate, real-time inspection scores. High risk items can be identified and critical managers can be contacted immediately.
Work Order Management
Data Collector allows for the design of work order systems. Using the platform, work orders can be dispatched to mobile devices, fulfilled and documented by field service teams. Results can be emailed to customers and the information can be stored for long-term reference and analysis.
Asset and Inventory Management
Forms designed on data collector can be used to capture initial inventory levels and asset details, document deductions and inventory additions and validate a traceable record of critical data points. When used in combination with Zerion Reports to create an accurate visualization of inventory.
The potential of Data Collector, especially when used with other products in the Zerion Suite, is endless. To learn more, visit: http://www.zerionsoftware.com.
###
Zerion is a mobile workflow solutions company. Our solutions include data collection, data processing, data management, data storage and data visualization, all leading to better decision making and improved safety and compliance standards. We're based around the belief that Good Data is the ultimate indicator of successful teams, allowing them to focus on what matters most. Zerion's clients represent various industries, including Agriculture, Healthcare, Engineering, NGO and the Government/Public Sector. For a full range of products and services, visit http://www.zerionsoftware.com/.